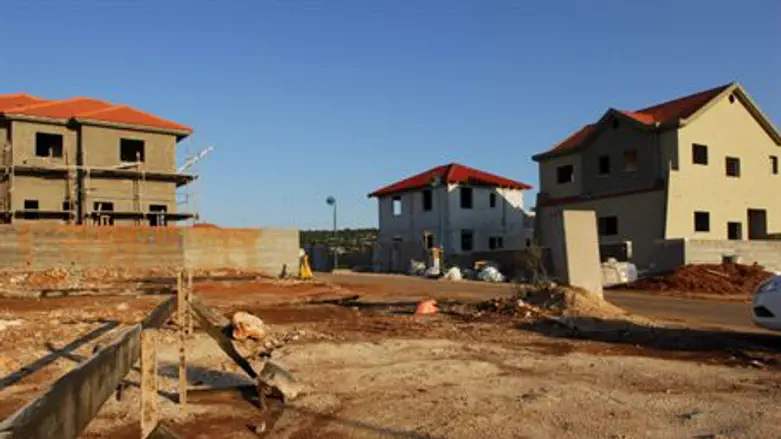 Construction in Samaria
Flash 90
Housing Minister Uri Ariel (Jewish House) vowed to build thousands of additional housing units in Judea and Samaria after visiting two construction sites in Tel Tzion and Kochav Yaakov in the Shomron (Samaria) region. Palestinian Authority (PA) official and former PA Minister of Prisoners Affairs, Ashraf al-Ajrami, responded this morning to Minister Ariel's declaration in an interview with Galei Tzahal army radio.
"If you want to reach a two-state solution, why would there be a need to continue building in the West Bank?" said Aljrami. He continued to add that this will only make eviction of Jewish residents of Judea and Samaria more difficult.
Minister Ariel said earlier that Israel will "try to build more and more across the country."
"No one dictates where we can build," he stated.
Ariel stressed that the government of "Israel has the right and duty to build anywhere in the Land of Israel."
"Why is building in Tel Aviv different than in Samaria?", he asked rhetorically. "The location of an area should not dictate whether or not to build."  
The Israeli government announced in the past three days that it intends to move ahead with plans for building 2,129 new homes in parts of east Jerualem and Judea and Samaria.
The government, under Prime Minister Binyamin Netanyahu, intends to issue additional tenders during the course of negotiation talks, according to Maariv. "The next tender is likely to be issued in tandem with the second release of prisoners in three or four months time in what could be described as a policy of 'prisoners for houses'," the paper added.