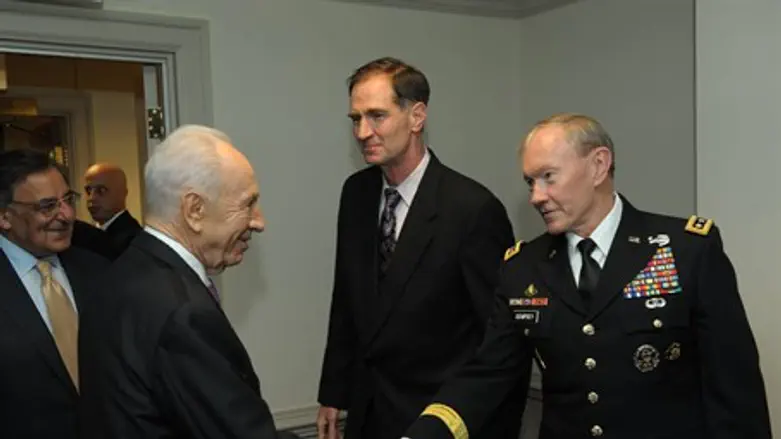 US General Martin Dempsey
Flash 90
On Tuesday, his first full day in Israel this week, U.S. Army General Martin E. Dempsey, the Chairman of the U.S. military's Joint Chiefs of Staff, met in Tel Aviv with Lt. General Benny Gantz, the IDF's Chief of General Staff.
After welcoming Dempsey, Gantz said that the Middle East is going through major changes. These changes will have direct consequences for Israel, he added, and "we must be aware of them."
The Israeli general noted that he and Dempsey have discussed these issues in the past and will do so again in the future. "The cooperation between our two countries and, as a result, between our respective defense organizations, is a very important cooperation," Gantz added.
Gantz said that the two leaders had a successful interaction discussing the region and how to promote freedom, security and liberty. He said to Dempsey, "With your leadership and your friendship, I think we can cope with any potential challenge in this region."
General Dempsey, for whom this is the fourth visit to Israel as Joint Chiefs chairman, said that this visit to Israel serves two important purposes: to continue to build the strong military-to-military relationship between the United States and Israel, and to gain regional insight from Gantz and other key leaders.
He said such senior-leader engagements, whether in Israel or in the U.S., "help us understand these complex situations … and then actually illuminate not only the vulnerabilities and threats, but also the opportunities."
The Chairman plans to visit Jordan later this week.