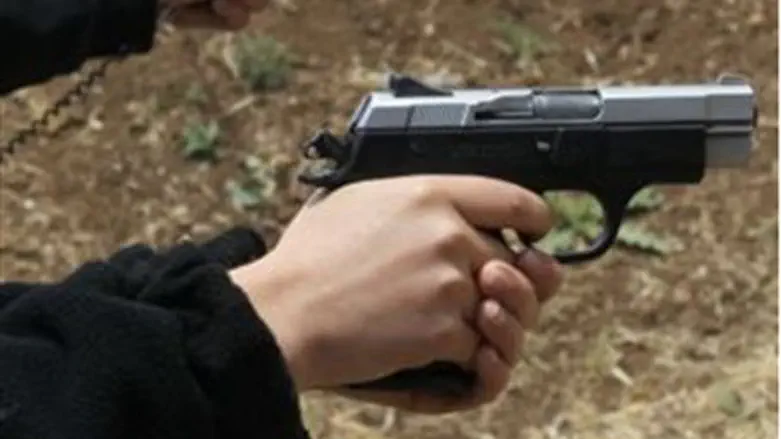 Gun (illustrative)
Israel news photo: Flash 90
A 54 year-old Israeli-American shot his 9 year-old son before turning the gun on himself in Manchester, New Hampshire.
The tragic murder-suicide occurred as Muni Savyon was with his son Joshua during a supervised visitation at a YMCA office at around 10am, according to the New York Post, quoting the attorney general's office. The shooting took place in the presence of an adult supervisor.
Rabbi Levi Krinsky of the local Chabad Lubavitch said that Savyon had sent an email to a friend indicating that he may have been suicidal. He had been depressed since returning from the funeral of his brother in Israel, but claimed that when he saw him the previous week he did not suspect he would harm himself or anyone else.
"What would provoke him to take his life and his son's life?" he asked "I don't think anyone can figure that out. My heart goes out to the family."
Rabbi Krinsky added that the tragedy proved that "We have to be more and more alert to mental illness and people who're depressed."
But law enforcement sources claimed that Muni's relationship with his wife - from whom he was separated at the time of the incident - had been "contentious" at times, and that he had in fact threatened to kill himself, his wife and their son.
But Ellen Savyon Vig described her husband as "kind-hearted."
"He was nonviolent. He would try to help anyone he could. He was a really nice guy," she said from her home in North Billerica, Mass.
He loved his son, and had been especially close to his brother, she added.
"We are deeply saddened by the tragic loss of life that occurred at the YWCA New Hampshire today," said CEO Dara Richardson-Heron in a statement Sunday night.
Savyon had apparently run twice, unsuccessfully, for the New Hampshire Legislature.
Responding to the tragedy, his former rival New Hampshire House Rep. Peter King, tweeted:
"Please keep the Savyon family in your thoughts and prayers as they cope with the unimaginable."