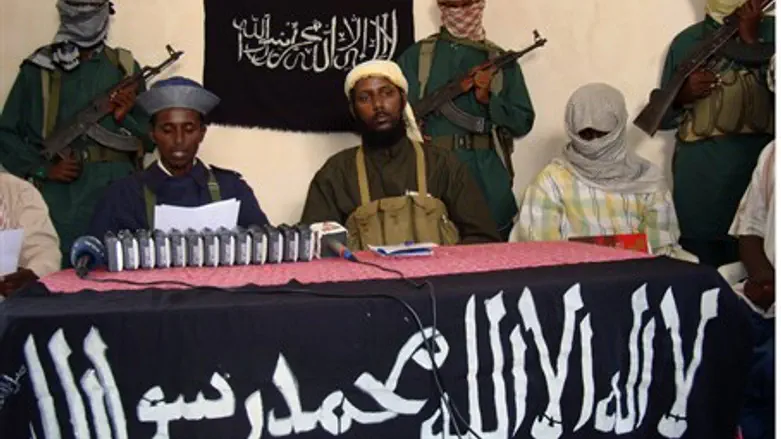 Al Shabab Terrorists
Reuters
Nearly half a million pounds (nearly three quarters of a million dollars) of British aid to Somalia has ended up in the hands of Al Qaeda-linked terrorists there, according to a report by The Telegraph.
The Department for International Development (DfID) has admitted that a total of £480,000-worth (approx. $745,000) of "humanitarian materials and supplies" was "confiscated" by the Islamist terror group between November 2011 and February 2012. It is not clear what the precise nature of the aid was, but an "aid industry expert" estimated that aid of that value could sustain the Islamist group for a "fairly long time."  
The source was scathing in its criticism of the DfID's conduct, alleging that "at best" DfID was asleep on the job, and "at worst, that its local partners were colluding with the terrorists."
It is estimated that "dried foodstuffs" of that value could feed 20,000 people for more than a year. 
Al Shabab, is fighting to establish an Islamic state in the war-torn country in the Horn of Africa, which has suffered 22 years of civil war since the fall of military strongman Major General Mohamed Siad Barre.
Revelations such as these are seen as particularly dire since, at a time of severe economic austerity and cutbacks in government spending, the only aspect of UK government expenditure that is on the increase is foreign aid - a fact that is already resented by many of the Conservative-led government's supporters.
The fact that it was al-Shabaab who seized the aid is additionally significant, as the group has previously threatened an attack on the UK that would "eclipse the horrors of 7/7 and 21/7 combined," in reference to two separate terrorist attacks (one successful and the other failed) in Britain by Islamists.
Moreover, a number of British citizens have traveled to Somalia to train with and fight alongside the group, raising concerns over how they could threaten British security if they return.
Conservative MP Sir Gerald Howarth added his voice to the "huge public concern at the relentless increase in overseas aid."
"Incidents like this, where British taxpayers' money is diverted into people fighting against us, are not acceptable," he said, adding that "DfID owes it to the public to exercise the utmost care with its money."
This is not the first time British taxpayers' money has ended up in the hands of terrorists. 
Two reports by a British NGO, The Taxpayers' Alliance, in 2008 and 2010, exposed how the British government - along with the EU and other western nations - is funding indoctrination and incitement to terrorism in Palestinian Authority schools and institutions through "foreign aid" to the PA.