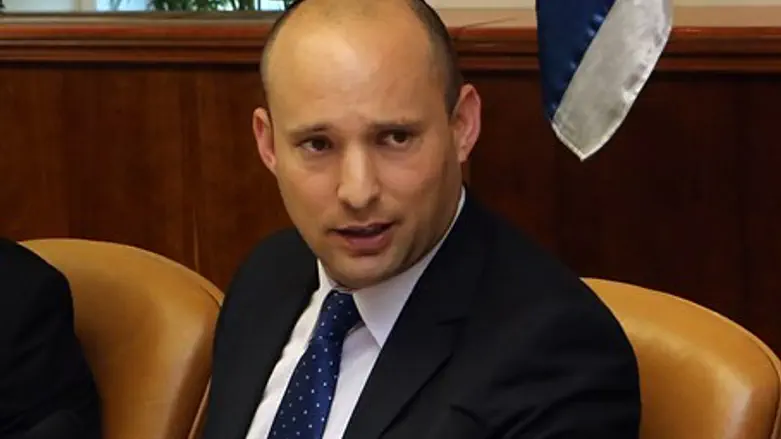 Naftali Bennett
Israel news photo: Flash 90
Nationalists defended on Sunday the government decision to issue 1,200 new housing tenders in Jerusalem, Judea and Samaria, after the Palestinian Authority (PA) and politicians from the center and left blasted the construction as an obstacle to peace.
Referring to an interview in which PA negotiator Saeb Erekat told Reuters that the PA has limited patience regarding Jewish settlements, Bayit Yehudi chairman Naftali Bennett wrote on his Facebook page – using his familiar concise Haiku-ish style:
"Erekat said just now that we may not build in our capital, in Jerusalem.
"The question is not 'why are we building in Jerusalem now.'
"The question is, why didn't we build until now.
"In the Bayit Yehudi, we will keep fighting for construction in our land.
"Without apologizing."
Earlier in the day Construction and Housing Minister Uri Ariel (Bayit Yehudi) said:
"No country in the world accepts dictates from other countries on where it is allowed to build or not. We shall continue to market apartments and build throughout the country."
MK Ofir Akunis denied Sunday that the construction in Judea, Samaria and Jerusalem is a provocation and said that it is not even connected to the negotiations that Israel is conducting with the PA.
Akunis said, "Construction in all parts of the Land of Israel is by virtue of our natural and historic rights. The automatic attack from the left [is] pure hypocrisy. It's interesting that no one on the left protested vehemently when [Palestinian Authority Chairman] Mahmoud Abbas spoke of a Palestinian state from Rosh Hanikra to Eilat."
The Yesha Council, an unofficial federation of leaders of Jewish communities in Judea and Samaria, predictably praised the decision to carry out more construction but said it was not enough.
"Construction in Judea and Samaria should continue all of the time," the Council said in a statement Sunday. "The tenders that are about to be issued are too little and too late, but this is better than a halt in construction, which creates a serious shortage in apartments and a rise in prices countrywide.
"The citizens of Israel are paying a high diplomatic and economic price because of the quiet freeze by the Netanyahu government, which stopped construction in Jerusalem, the capital of Israel, and in Judea and Samaria."
PLO executive committee member Hanan Ashrawi condemned the Israeli announcement.
"We believe that Israel is deliberately sending a message to the US, to the rest of the world that regardless of any attempt at launching negotiations, 'we are going to press ahead with stealing more land, building more settlements and destroying the two-state-solution'," she told the BBC.
"This is an extremely dangerous policy, and if left unchecked it certainly would lead to greater conflict and the destruction of all chances of peace."