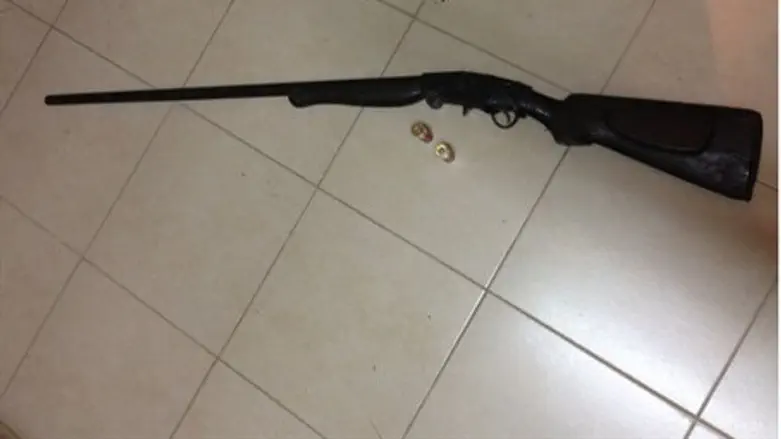 Shotgun caught by IDF soldiers
IDF Spokesperson's Unit
An IDF commander who lost his foot was personally involved in apprehending a Palestinian Authority Arab who was found with a shotgun on Wednesday evening.
The incident occurred near the PA Arab village of Beit Dajan, east of Shechem. An IDF force led by the commander of the Shomron Brigade, Yoav Yarom, located the shotgun in the Arab's vehicle. Yarom confiscated the weapon and apprehended the Arab.
A military source told Arutz Sheva that Yarom regularly fights terrorist organizations not only from the "air-conditioned offices", as he put it, but in the field alongside his soldiers.
Yarom began his career as an officer in the elite Sayeret Golani. During an operation in Lebanon in 1994, he stepped on a landmine that caused him to lose his foot. He insisted on continuing his military service despite his injury and was allowed to do so.
In the great terror onslaught known as the Second Intifada, Yarom was wounded again, this time in the stomach from gunfire. He recovered and again returned to active combat service in Golani, serving as deputy commander of the elite Egoz unit and as commander of the Reconnaissance Battalion (Gadsar).
Yarom replaced Nimrod Aloni as commander of the Shomron Brigade in May of last year.