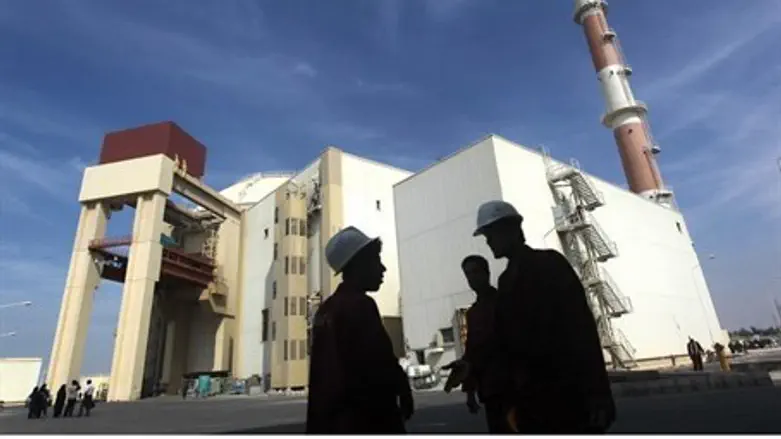 Bushehr nuclear power plant
AFP photo
The United States responded on Tuesday to remarks by Iran's new president that his country was ready for "serious" talks about its nuclear program, by reiterating that "the ball is in Iran's court."
The State Department said that the inauguration of President Hassan Rouhani is a chance for Iran to move quickly to resolve concerns about its nuclear program, but stressed the U.S. wants to see actions from Tehran.
Rouhani's inauguration "presents an opportunity for Iran to act quickly to resolve the international community's deep concerns over their nuclear program," said spokeswoman Jen Psaki.
However, she said, "There are steps they need to take to meet their international obligations and find a peaceful solution to this issue, and the ball is in their court."
Earlier on Tuesday, Rouhani said that Iran was ready for "serious" talks on its nuclear program without delay and that U.S. calls for tougher sanctions showed a lack of understanding.
"As the president of the Islamic republic, I am announcing that there is the political will to solve this issue and also take into consideration the concerns of the other sides," he said.
"We are the people of interaction and talks, with seriousness and without wasting time, if the other sides are ready."
Rouhani took particular issue with a letter signed by 76 U.S. Senators  -- more than three-quarters of the total -- calling for tougher U.S. sanctions on his country, even as he promised more constructive engagement.
He charged that the letter was the work of a "foreign country" and its supporters in the United States, a clear allusion to Israel.
Meanwhile, Prime Minister Binyamin Netanyahu said on Tuesday that the only way to stop Iran's nuclear program was to keep up the pressure on its leadership.
Speaking with a delegation of 36 U.S. Congress members who are visiting Israel, Netanyahu said, "Iran's president said that pressure will not help to dissuade him from developing nuclear weapons. But we see that over the past two decades, the only thing that has helped has been pressure."
"I have said it before, and I will say it again, because it's important that it be understood. If the pressure on Iran is lifted, it will go ahead with developing nuclear weapons," warned Netanyahu.