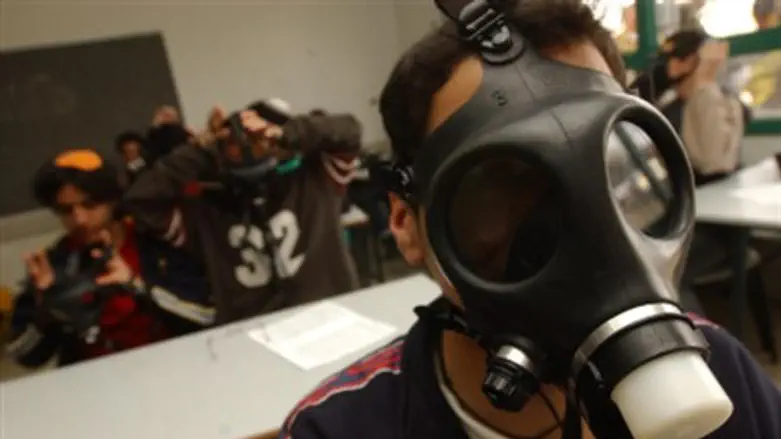 Gas masks in Israeli school drill (file)
Israel news photo: Flash 90
The Ministry for Home Front Defense may ask the government to impose higher taxes in order to purchase millions more gas masks, it was revealed Tuesday during a meeting of the Knesset's State Control Committee.
The extra tax would come in the form of an increased Bituach Leumi (National Insurance Institute) payment.
According to Home Front Command data, roughly 40% of Israelis do not have up-to-date gas masks. The cost of supplying gas masks to those millions of Israelis is estimated at 300 million shekels.
The army estimates that it will need an additional 300 million shekels each year to refresh old gas mask systems.
MK Amnon Cohen of Shas was outraged by the proposal. "This is crazy. They've imposed enough budget cuts and economic burdens on the public… The state must bear the cost of the gas masks," he argued.
Cohen also spoke about the State Comptroller's report on Home Front preparedness. The lack of preparedness indicated by the report is worrying, he said, "It's very concerning that citizens' safety is not certain. Nobody is taking responsibility… I pray to G-d that there will not be attacks that expose the failures."
Minister of Home Front Defense Gilad Erdan said the Comptroller's report has guided him since he came into office.
In any future war, hundreds or thousands of missiles will hit Israel, he warned – including major population centers and strategic installations.
"It's been seven years since the Second Lebanon War and we still don't have a law that regulates Home Front activity," he warned. However, he added, "I am sure that the Prime Minister will make a significant decision in the near future… The lessons from the Second Lebanon War have been learned."
"Delegating authority properly could save lives," he said.
Erdan later clarified that while ministry officials had discussed the possibility of funding gas masks with a new tax, his ministry will not be asking the government to impose new taxes.