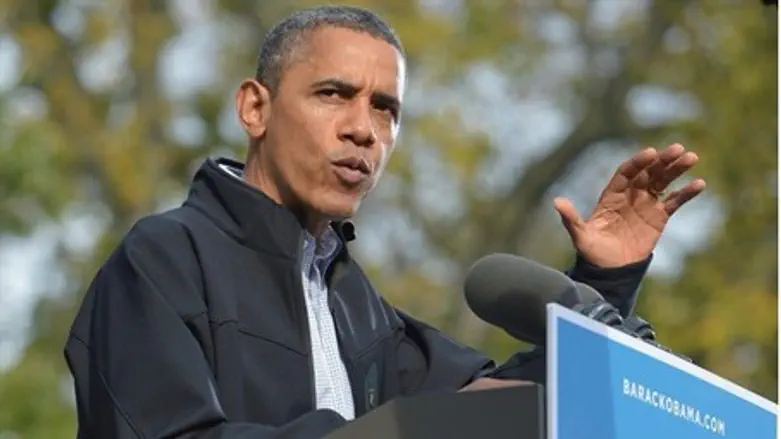 U.S. President Barack Obama
AFP/Mandel Ngan
76 U.S. senators have urged President Barack Obama to impose tougher sanctions on Iran, saying Washington must stress its military option even as new President Hassan Rouhani urges dialogue, AFP reports.
"Mr. President, we urge you to bring a renewed sense of urgency to the process," said the letter, publicized Monday by authors Robert Menendez, the Democratic chairman of the Senate Foreign Relations Committee, and Republican Senator Lindsey Graham.
"We need to understand quickly whether Tehran is at last ready to negotiate seriously" on its nuclear program, it said, according to AFP.
Another 74 senators signed the letter, which was sent to the White House on Friday, two days before Rouhani was sworn in.
The reputed moderate once served as Iran's nuclear negotiator, and the West is hoping that he will take a more constructive approach in long-running talks on Tehran's controversial nuclear drive.
Despite Iranian denials, the West is convinced Tehran is pursuing a nuclear bomb.
"Iran has used negotiations in the past to stall for time, and in any event, (supreme leader Ayatollah Ali) Khamenei is the ultimate decision-maker for Iran's nuclear program," the senators wrote to Obama.
"Iran needs to understand that the time for diplomacy is nearing its end. We implore you to demand immediate serious moves on Iran's part," they added.
The White House said Sunday that Iran will find the United States a "willing partner" if Rowhani is prepared for serious nuclear talks.
Rouhani has indicated he would like a less confrontational approach to nuclear talks with six world powers than his predecessor Mahmoud Ahmadinejad. At the same time he stressed soon after his election that Tehran would not consider halting the country's uranium enrichment activities entirely.
Last week shortly before Congress went on summer break, the House of Representatives overwhelmingly approved harsh new sanctions aimed at drastically reducing Iran's oil exports by ending purchasing exemptions to countries like China and Japan.
The recess window is being seen as a pivotal period for both the White House and Iran.
A Senate official told AFP that after the August recess the Senate Banking Committee aims to introduce legislation on further sanctions against the Islamic republic.
"Our nation must toughen sanctions and reinforce the credibility of our option to use military force," the senators wrote.
"We must be prepared to act, and Iran must see that we are prepared."
At his swearing in ceremony on Sunday, Rouhani insisted that "if you want a proper answer, do not speak with Iran with the language of sanctions but with the language of respect."
A report released over the weekend found that Western sanctions are cutting ever deeper into the Islamic republic's financial lifelines and increasing pressure for a nuclear deal with the West.
The sanctions have been blamed for slashing Iran's oil exports and undermining the value of the rial. The value of the rial has fallen by more than half since the beginning of last year as Iran has endured mounting sanctions from the United States and international community. Several months ago the Iranian currency plummeted to an all-time low.