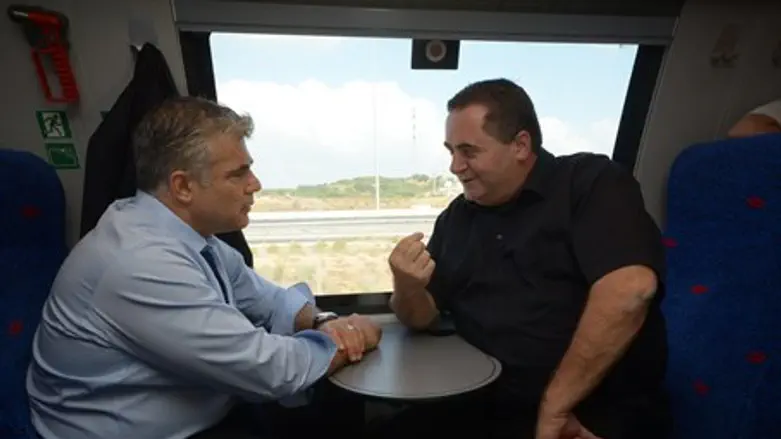 Lapid, Katz ride new TA-Ashdod train
Avi Rokeah
Transportation Minister Yisrael Katz (Likud Beytenu) and Finance Minister Yair Lapid (Yesh Atid) came together Sunday to inaugurate a new train line between Tel Aviv and Ashdod. The new line will mean a journey of just 35 minutes between the cities.
Another stretch of the new line connects Ashkelon and Tel Aviv for a journey of just 45 minutes.
The two ministers took a ride on the new line, during which they discussed transportation in Israel.
The train lines mean a revolution in Israeli living, Katz rejoiced. "Now people can live here, not in central Israel," he said. Many jobs are more widely available in the Tel Aviv area than elsewhere, particularly in hi-tech.
"The train will keep developing, and will reach many Israeli cities," Katz declared. "Our task is to connect the 'periphery' to the center of the country."
Lapid spoke about the government's plan to open two new ports. Everything will be done in coordination with the workers' unions and the Labor Court, he clarified.
"We'll talk to the Histadrut. They're not our enemies," he said.
However, he said, ultimately the ports must be opened to competition. "The state needs to be able to open markets to competition. We can't have a situation where people tell the state, 'don't open markets to competition, don't bring down prices,'" he warned.
Katz promised that the government would reach its goal. "We saw how past cases ended, where they bribed the unions with billions so they would approve the reform. In the end, they build a port and gave it to the unions," he recalled.
"We won't do that. We will create competition," he pledged.