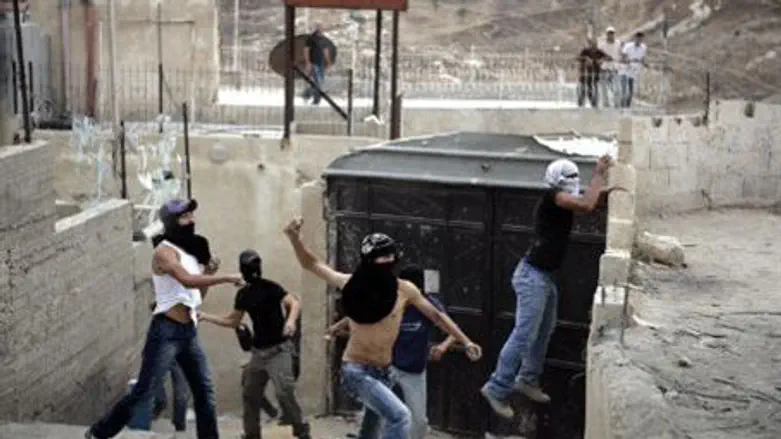 Jerusalem riots
Flash 90
The IDF and Shin Bet have released their report on terrorist attacks in the month of July. Over the course of the month, 38 Israelis were wounded in terrorist assaults.
Among the wounded was a young toddler who suffered a head injury when Arabs hurled stones at a Jewish family near the Old City of Jerusalem.
An eight-year-old Jewish boy was also injured in a rock-throwing attack in the Old City, and a baby girl was wounded in a rock attack on a bus heading for the Kotel (Western Wall).
There were additional injuries in rock attacks near the Shechem Gate of the Old City, and on Uzi Narkis Street in Jerusalem. One man was wounded when an Arab attacker hit him in the face during a carjacking north of Jerusalem.
A Jewish youth who was attacked by a group of Arab men in the Jewish Quarter of the Old City of Jerusalem was not hurt, the report noted.
Other injuries reported during the month included three Border Police officers hit by a bomb blast in Abu Dis, a hareidi-religious man who was moderately wounded in a stabbing attack in Jerusalem, and a man who was moderately wounded in a second stabbing attack in a park near the Yemin Moshe neighborhood of Jerusalem.
Alert guards stopped an Arab woman who attempted to carry out a stabbing attack in the city of Hevron.
Soldiers foiled several terrorist attacks, as well. A terrorist with bomb-making materials was caught in the Hevron region. Border Police arrested three Arab men at a checkpoint after finding weapons in their car. Another three were arrested at the Yitzhar junction with weapons; they had apparently planned to carry out a shooting attack.
Terrorists carried out at least 55 firebomb attacks over the course of the month, targeting civilian buses and Israeli travelers in Judea and Samaria.
There were attacks in the Southern District as well. Gaza terrorists fired on Navy ships off the coast, and three rocket attacks targeted Israeli communities near Gaza. A fourth rocket attack was reported targeting the city of Eilat.