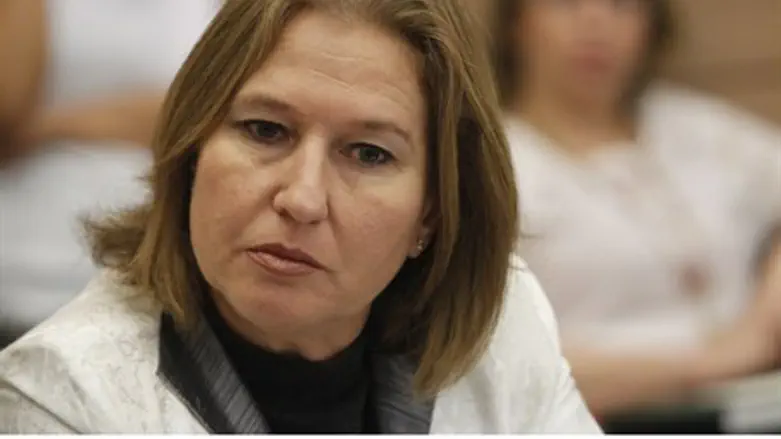 Justice Minister Tzipi Livni
Flash 90
Justice Minister Tzipi Livni responded on Friday to Israel's decision this week to release terrorists as a gesture to the Palestinian Authority, saying that in her opinion, giving in to demands by terror groups that kidnapped a soldier by releasing prisoners was much worse.
Speaking to Channel 10 News after meeting PA negotiator Saeb Erekat in Washington earlier this week, Livni said that the 104 terrorists Israel agreed to free would be released in small groups and only if the PA shows that it is serious during the negotiations.
"The bereaved families feel this conflict in the most painful way," she said, "but to me, releasing such terrorists when there is a gun pointed at our heads in exchange for a soldier or for dead bodies, is much worse from a national perspective."
Livni added that the release of the terrorists is meant to "generate hope for the children of those who paid the price [of the conflict]," and claimed that it will happen "in small groups and only if the negotiations will be serious."
"All the parties involved have an interest in reaching a settlement," she said and, referring to U.S. Secretary of State John Kerry's announcement that the negotiations will continue for nine months, added, "Time is less important. If we require more than nine months, of course we'll continue, and if the negotiations will not be serious - then even nine months will not necessary. My impression is that the Palestinians are serious, this is a test for them. Anyone who enters the negotiating room knows more or less how it should end."
Livni claimed that PA Chairman Mahmoud Abbas had toned down his previous preconditions before this round of talks, saying, "Abbas's demands just four months ago were much more stringent. He wanted a map based on the [pre-]1967 borders that is approved and signed by the Israeli government, a complete freeze of settlement construction and release of prisoners. We tried to produce a package that does not include things that Israel could never give."
Livni admitted that "For me, a construction freeze is not something problematic. It is our duty to keep the 'settlement blocs' as part of Israel, and I see no point in further building."
She stressed that negotiations could not have happened without Prime Minister Binyamin Netanyahu's decision to restart talks. Finally, referring to the referendum law which passed its first Knesset reading this week, Livni said, "I objected but the law has been enacted. We'll accept the decision of the people."
(Arutz Sheva's North American Desk is keeping you updated until the start of Shabbat in New York. The time posted automatically on all Arutz Sheva articles, however, is Israeli time.)