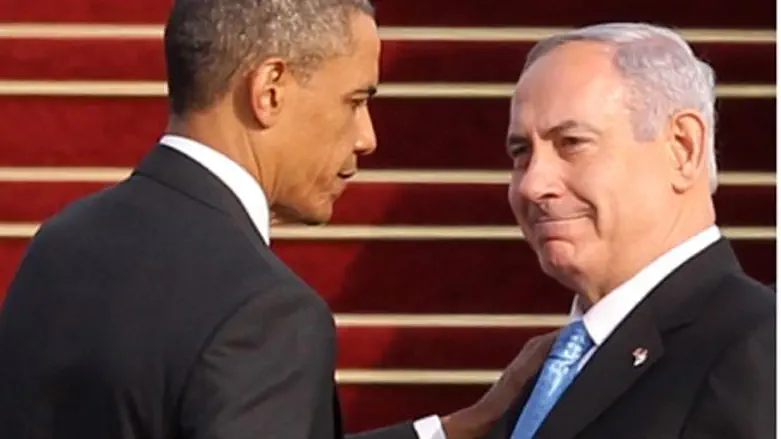 Obama and Netanyahu
Flash 90
U.S. President Barack Obama gave a commitment to Prime Minister Binyamin Netanyahu, to take action "in the coming months" regarding the Iranian nuclear threat, in exchange for Israel's agreement to renew "peace talks" with the Palestinian Authority (PA), a security source told Arutz Sheva.
The source said, however, that Obama did not reach a specific agreement with Netanyahu, but gave only a general commitment. The source added that it was not clear if the commitment was given in exchange for the very fact that Israel-PA negotiations are being held, or if it is conditional on their success.
Netanyahu's agreement to release terrorist murderers from Israeli jails appears to derive from the same agreement. Defense Minister Moshe Yaalon appears to have been hinting at this when he said Monday that "Perhaps, one day, the strategic considerations that stood behind the decision to free the Palestinian prisoners will be revealed."
In recent months, Obama has been dragging out the process of reaching a decision on a strike in Iran that would damage its nuclear weapons program. This indecision has affected Israel, too, since even a unilateral Israeli strike requires full cooperation from the U.S. and Saudi Arabia. 
The White House released a statement Friday in which it said: "President Obama called Prime Minister Netanyahu today to commend his leadership and courage in resuming final status negotiations with the Palestinians. The President underscored that while the parties have much work to do in the days and months ahead, the United States will support them fully in their efforts to achieve peace. The two leaders agreed to continue the close coordination between the United States and Israel on this and other regional issues."