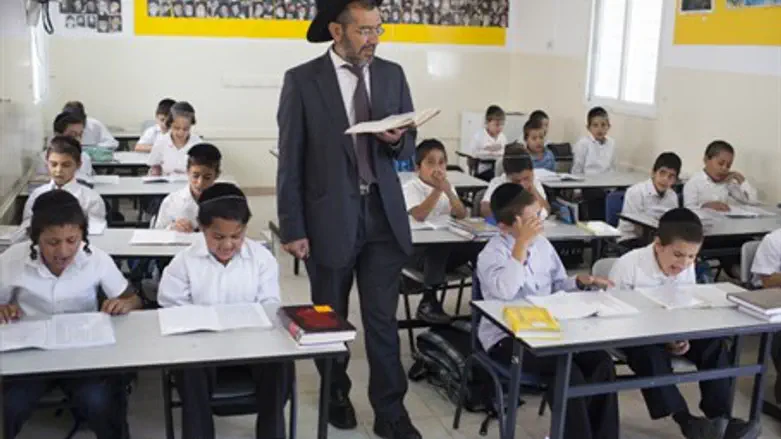 Hareidi boys in school
Israel news photo: Flash 90
The Education Ministry is working to bring hareidi-religious schools under state auspices, according to the hareidi newspaper Hamevaser.
The paper reported that Education Minister Shai Piron has held meetings in recent weeks with the principals of hareidi schools from around the country in an attempt to convince them to switch their schools' affiliation from "recognized non-public" to "public."
According to the report, Piron met mainly with principals of schools that are suffering budget crises. Becoming public schools would make them eligible for significantly more state funding.
Piron allegedly told the principals that they would have "pedagogical autonomy," allowing them to remain firmly within the hareidi-religious community's standards.
The plan to create a hareidi stream of schools in the public school system would reportedly go into effect as early as this year.
Hamevaser expressed distrust of the reported talks, accusing Piron of an attempt to "damage the 'recognized non-public' schools, which are subject to the decisions of the Torah sages, and to bring as many of them as possible under the umbrella of the 'public-hareidi school system,' which would be subject to the Education Ministry."
The paper quoted anonymous rabbis expressing opposition to the reported plan and urging principals not to go along with it. "Financial troubles, bad as they are, are not a reason to give up the pure education that our forefathers and rabbis sacrificed for throughout the generations," they were quoted as saying.