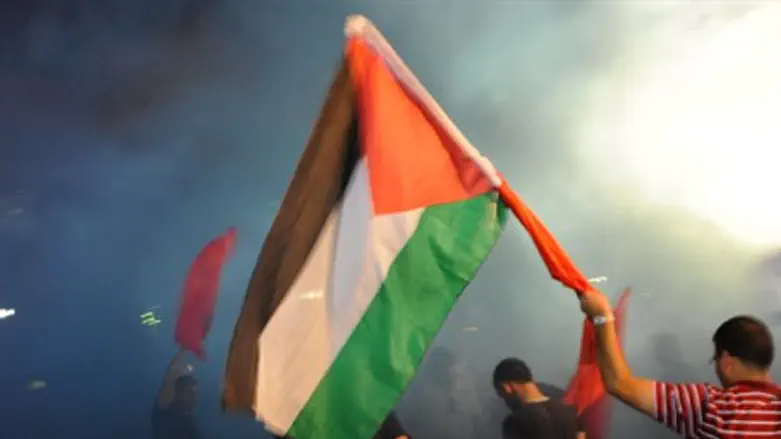 PLO flag
Flash90
Attacks against Jews in Malmoe, Sweden's third largest city, have left members of the community questioning their future in a place known for its "multiculturalism."
Jewish people have lived in Malmoe for over two centuries, often arriving in the south Swedish port city - a safe haven for generations - after fleeing persecution and intolerance in other parts of Europe.
But though waves of immigration over the past two decades have made the area more diverse, hate crimes appear to be on the rise and many people -
paradoxically - say they feel less secure.
Highlighting a problem many Swedes had thought long relegated to history, the US special envoy for anti-Semitism even visited Malmoe last year.
Typically, but not exclusively, the perpetrators of anti-Semitic hate crimes are "young men with roots in the Middle East", according to Jehoshua Kaufman, a member of Malmoe's Jewish congregation.
Parents are especially worried about their children being subjected to abuse at school.
Bullying has been a problem "not for everyone, not always, but very often", said Kaufman, as he took part in a regular march known as the "kippah walks"
- referring to the Jewish skullcaps worn by the demonstrators - organised to battle anti-Semitism.
Around a third of Malmoe's 310,000 residents were born abroad, with the largest minorities coming from the Balkans, Iraq and neighbouring Denmark.
The total number of Jews in the city is estimated to be around 2,000, with around 600 that are members of its synagogue.
In 2012, 66 anti-Jewish hate crimes were reported, according to the Swedish National Council for Crime Prevention.
According to figures from Malmoe police, 60 reports were made, compared with just 31 in Stockholm, with more than three times the population. Thirty-five have already been reported in Malmoe so far this year.
The figures seem to be on the up -- in 2010 and 2011, a total of 44 reports were made over the two years combined.
Shneur Kesselman, a US-born orthodox rabbi, has had insults and objects hurled after him on the streets of Malmoe more times than he can remember.
With his traditional Hasidic black clothing, redora hat and beard, he cuts an incongruous figure in the traditionally working-class, immigrant-heavy eastern half of the city.
But he insists on staying. "It's a little hard to explain. My wife and I have made Malmoe our project. We feel a sense of responsibility for Jewish life here," he said.
The response by local authorities has been patchy at best.
Malmoe's former mayor, Ilmar Reepalu, gained notoriety after suggesting members of the Jewish community had themselves to blame when a rally they organised during the 2008-2009 Gaza War was attacked with bottles and eggs.
"I wish the Jewish congregation would distance itself from Israel's violations of the civilian population in Gaza," Reepalu told a local newspaper.
Last year, the social democratic mayor courted more controversy by saying the Jewish community had been "infiltrated" by the anti-immigrant Sweden Democrats - a claim he later retracted.
The Sweden Democrats have sought to use the attacks on Malmoe's Jews for political gain, framing them as a by-product of Sweden's generous immigration laws.
"It's clear that misguided skinheads aren't the major threat against Jews in Sweden today, but the imported anti-Semitism from the Muslim group," parliamentarian Kent Ekeroth wrote in an op-ed.
Taking action

But members of Malmoe's Jewish community say that anti-Semitism is not just the preserve of immigrants.
In an incident in 2010, local youths in Vellinge, a middle-class town with few immigrants on the outskirts of Malmoe, shouted Nazi slogans at people
attending a weekend event for children at a Jewish recreation centre and threw eggs at the building.
"But in Malmoe it's the young Muslim guys that are the problem, that has to be said. They come from countries where there are racist, anti-Semitic TV programmes," said Barbro Posner, a member of the Jewish community.
The authorities not appear to be addressing the problem. Ilmar Reepalu's replacement Katrin Stjernfeldt Jammeh, who assumed the mayorship this month, told APF the city's schools were trying to combat racism by providing special training for teachers.
The city has also invited community leaders to a "dialogue forum" tasked with "combating religious and ethnic discrimination".
Ala-Eddin Al-Qut, head of the local chapter of Sweden's Islamic Association, said the group had been able to change people's attitudes after getting Muslim organisations to address anti-Semitism in their Friday sermons.
The Malmoe Palestine Network had also banned some signs and slogans from its anti-war demonstrations, he said.
"You have to distinguish between Jews and Israelis," Al-Qut said - though such a sweeping comments about "Israelis" is hardly likely to reassure local Jews either.
Sofia Nerbrand, co-founder of the kippah walks, said the rest of Sweden viewed Malmoe as a litmus test for whether multiculturalism could work in the
once homogenous country, especially in the wake of a series of gang-related shootings involving immigrants.
In late 2011 and early 2012, five people were shot dead in Malmoe in less than six weeks. At least some of the killings appeared to be linked to
organised crime, prompting Reepalu to call for stricter gun laws.
"If we fail here, people will say: 'Look what happens when you bring in too many Muslims'," said Nerbrand.
Jehoshua Kaufman said the racism he and other Jews had encountered was not limited to just Malmoe but simply more visible there than in places like
Stockholm due to the city's compact and less segregated centre.