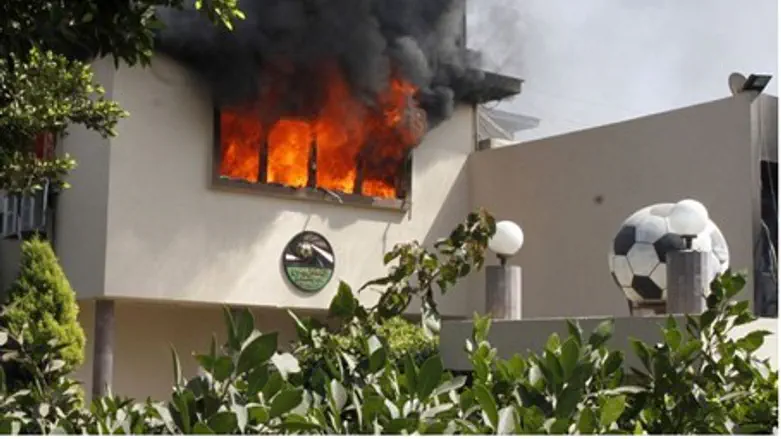 Flames rise from a room at the headquarters o
AFP photo
Republican Senators Lindsey Graham and John McCain said Tuesday they're traveling to Egypt next week at President Barack Obama's request, in hopes of spurring the reconciliation process there, reported Politico.
The two plan to convey "a unified message that jailing the opposition is becoming more and more like a coup," Graham was quoted as having told reporters.
McCain confirmed the travel plans a few hours later, but the White House would not say whether Obama had asked the two Republicans to make the trip, saying only that administration officials are "continuing to consult closely with the Congress on Egypt."
Graham said he and McCain are still working out the details of their travels.
"We're trying to find a way to get there. Hopefully it's safe enough to go. You don't know what's going to happen," he said, according to Politico.
Graham also said now is not the time to cut off military aid to Egypt, making clear he opposes a provision by Senator Rand Paul (R-Ky.) that would do just that.
"I don't know why we're having this vote, quite frankly," Graham said. "Let's just get more information before we have votes about cutting aid off or keeping aid flowing."
McCain has called for a suspension in aid because of U.S. laws that prohibit military assistance to countries where a democratically elected leader has been deposed in a military coup. Graham said he might come to support that position — but first he wants to get first-hand knowledge of the situation on the ground.
"I may come to decide we need to cut off aid," he said, according to Politico. "But I'd like to go over there and talk to the military and any members of the government and [Muslim] Brotherhood factions to find out what's going on on the ground and send a clear message to the people in charge of Egypt that there are certain objections here in America that are bipartisan in nature."
Last week, the Obama administration told lawmakers that it does not plan on defining the overthrow of Egypt's government as a coup. This will allow the United States to continue providing $1.5 billion in annual military and economic aid to Egypt.
The announcement came just a day after Washington delayed delivery of four F-16 fighter jets to Egypt. It was the first U.S. action since the military ousted President Mohammed Morsi.
The White House has been cautious about calling the Egyptian military's ouster of Morsi a "coup," noting that it will need to "review what has taken place."
The White House condemned on Monday the "bloodshed and violence" in Egypt  but took no immediate steps to suspend U.S. military assistance to the country.