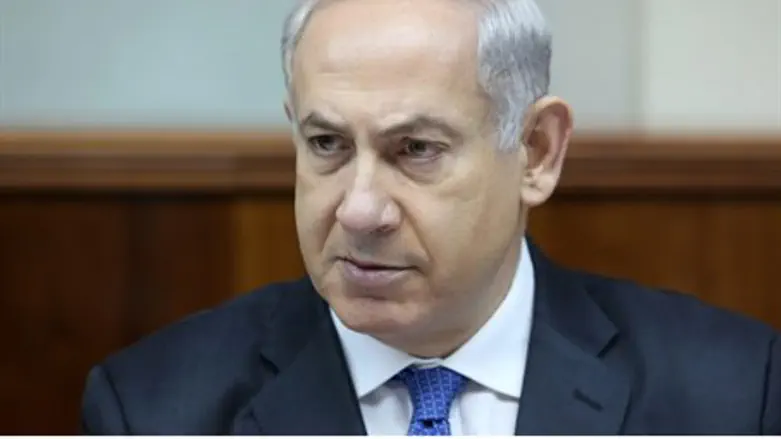 Prime Minister Binyamin Netanyahu
Flash 90
"The government decided to release terrorists and I ask, why? In return for what? What have we received? This crossing of a line, of releasing murderers, is dangerous in the struggle against terror."
These words were spoken just five years ago, when the Kadima government released 200 terrorists as a "gesture" to Mahmoud Abbas. Only two of those had blood on their hands.
Then-Opposition Head Netanyahu said at the time that contrary to the government's claim, the release of terrorists does not strengthen Mahmoud Abbas. "It weakens Israel and strengthens terror elements. Most of the public – a great part of the public – understands that this thing is unacceptable and reflects weakness and a loss of direction. The government has lost its direction – if it ever had a direction to begin with."
"Instead of taking a tough stand against terror, the Kadima government continues to release hundreds of terrorists in return for nothing," Netanyahu accused, adding: "The Likud government will replace Kadima's weakness with an aggressive and uncompromising policy toward terror.
Gideon Saar, who was Likud faction chairman, said at the time: "The government's decision crushes the public's trust, that murderers and terrorists are brought to justice, and it will harm the security of the citizens of Israel and the attempts to free Schalit.
"One can only imagine how this release of 200 terrorists, free of charge, will affect the level of demands that Hamas will make."
Those words stand in sharp contrast to the PM's decision, which passed a cabinet vote, to free 104 convicted terrorists with "blood on their hands," as precisely the kind of gesture to the PA that Bibi so fiercely condemned only five years ago.
Saar, now Minister of Interior, voted in favor of the release of terror prisoners on Sunday and has defended the move.
The decision was passed with a majority of 13 ministers in favor, seven opponents and two who abstained.
Voting in favor of the decision, besides Netanyahu and Saar, were Defense Minister Moshe Yaalon, Minister of Public Security Yitzhak Aharonovich, Minister for Strategic Affairs Yuval Steinitz, and Aliyah Minister Sofa Landver (Likud / Yisrael Beytenu); Finance Minister Yair Lapid, Education Minister Shai Piron, Health Minister Yael German, Science Minister Yaakov Perry and WelfareMinister Meir Cohen, (Yesh Atid); as well as Justice Minister Tzipi Livni, and Environment Minister Amir Peretz (Hatnua).
Voting against it were Transport Minister Yisrael Katz, Communications Minister Gilad Erdan, Tourism Minister Uzi Landau, and Agriculture Minister Yair Shamir, all (Likud / Yisrael Beytenu); as well as Economics Minister Naftaliu Bennett, Housing Minister Uri Ariel and Minister for Pensioners Uri Orbach, (Bayit Yehudi).
Energy Minister Silvan Shalom and Culture Minister Limor Livnat, both of Likud / Yisrael Beytenu, abstained. 
Shabak warning
Meanwhile, on Sunday Shin Bet head Yoram Cohen warned government ministers at the weekly Cabinet session Sunday against releasing terrorists as a "gesture" to the Palestinian Authority (PA).
Cohen explained that the release of terrorist prisoners would diminish security "both in the immediate threat to the public, and because of the erosion in deterrence."
"The chance that the prisoners will go back to terrorism is relatively large," he said. Experience shows that as the years pass from the terrorists' release, they tend to go back to the activity that landed them in jail, he added.
The move to free convicted terrorist murderers is deeply unpopular among the Israeli public, with polls showing that almost 85% oppose such a move.