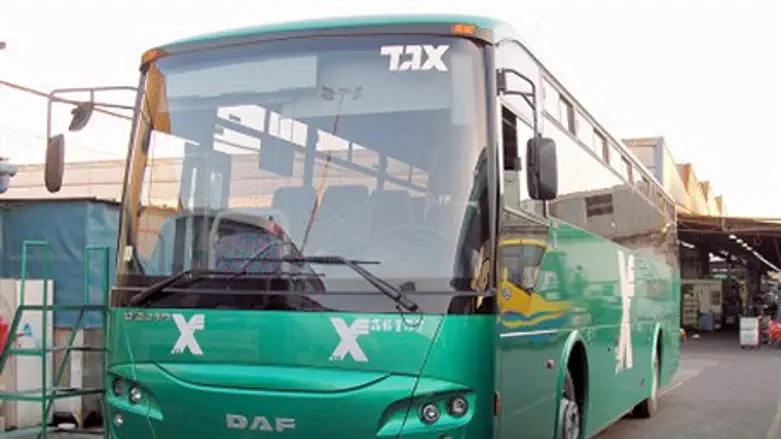 Egged Bus (archive)
Israel news photo: Egged
More terror attacks are being reported at the entrance to the Old City of Jerusalem, with Palestinian Authority Arabs attacking buses with Israeli license plates.
The Arabs hurled large rocks at an Egged bus as it traveled past the Damascus Gate on Thursday afternoon, according to Israel Police spokesman Micky Rosenfeld, who tweeted the information via the Twitter social networking site.
Four people were "lightly" wounded, Rosenfeld said, all of whom were treated at the scene by medics from the Magen David Adom emergency medical service. The wounded include a baby.
Police threw a dragnet around the area and launched a search for the attackers.
Security personnel are also continuing to search the Jerusalem area for the perpetrators who carried out two stabbing attacks barely 24 hours earlier -- yesterday (Wednesday) afternoon -- including one in the same location, at the Damascus Gate.
In the second incident, the 40-year-old male victim was seriously wounded by an Arab attacker who stabbed him in Liberty Bell Park (Gan Hapaamon). He was taken to Hadassah Ein Kerem Medical Center, where he remains in serious condition with stab wounds in the back and hand.
A number of analysts this year have questioned whether the calls by Muslim extremists for a Third Intifada have not indeed begun to be acted upon. There has been a significant rise in the number of road terror incidents in the past two years, despite an overall decline in the number of major terrorist attacks.
The construction of the security barrier that separates the Palestinian Authority from the rest of Israel has largely blocked the ability of most terrorists to carry out suicide bombings and other mass casualty attacks. Nevertheless, the security barrier has not been as effective in preventing road terror incidents such as rock attacks, firebombings and drive-by shootings, which are preventable only with the active presence of more security personnel on the roads.