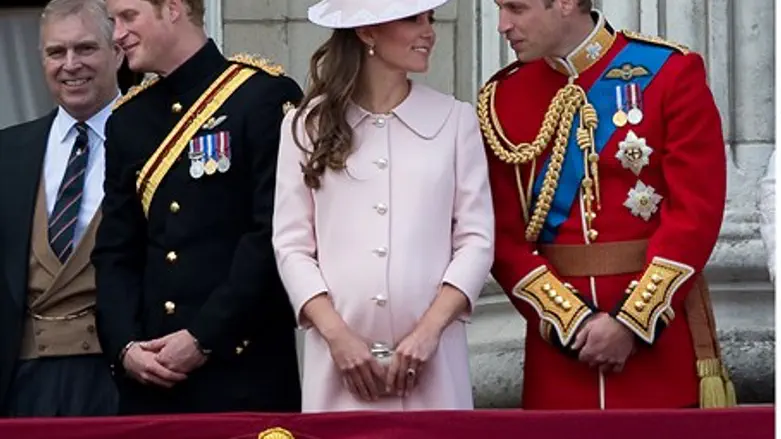 Britain's Prince Andrew, Prince Harry, Prince
Reuters
The Duke and Duchess of Cambridge have thanked hospital staff for their "tremendous" care, as they prepare to leave the hospital following the birth of their son.
"Mother, son and father are all doing well," said a Kensington Palace spokesman, according to the BBC. 
The birth of the third in line to the throne was marked with gun salutes in Green Park and the Tower of London.
"We would like to thank the staff at the Lindo Wing and the whole hospital for the tremendous care the three of us have received," the couple said in a statement. 
"We know it has been a very busy period for the hospital and we would like to thank everyone - staff, patients and visitors - for their understanding during this time."
Prince William had earlier said the couple "could not be happier" following the birth of the baby boy.
President Peres wishes "mazal tov" to royal couple
Israeli president Shimon Peres sent a  congratulatory letter on Monday to Prince William and Princess Catherine
"On behalf of the people of the State of Israel I wish to express our tremendous joy at the birth of your child — a royal baby born in the most democratic country on earth," Peres wrote.
"From Jerusalem, we pray for his health, his future, and his peace. May he live to a hundred and twenty years, and I know that the whole Jewish nation joins in wishing the entire Royal Family a hearty Mazal Tov."
"Never in my life did I see the people of the world so united in happiness," said Peres. "It was a demonstration of where royalty helps democracy and where the people have shown what a true democracy is. The streets were full and smiles were on everybody's face.
"I am happy to see the whole world so happy with the birth of this young boy," the president added.