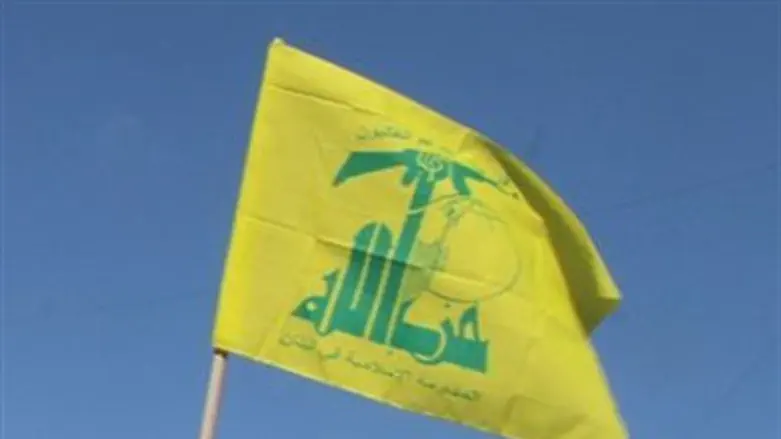 Hezbollah flag
AFP photo
In a compromise to avoid labeling the Lebanon-based Hezbollah group a terror organization, the European Union voted Monday to place its military wing on the list of terrorist entities. 
The council of 28 EU foreign ministers could not reach a unanimous vote on the issue, although a majority was reached.
Israeli Deputy Foreign Minister Ze'ev Elkin told Voice of Israel radio the vote came after many years of hard work by the ministry in the halls of European foreign ministries.
It is also widely believed that the Iranian-backed group's decision to intervene militarily in the Syrian Civil War on behalf of the Assad regime convinced many of those who previously opposed a ban to take the move.
Israel has in the past urged the European Union to list the entire group as a terrorist organization, but this decision will be welcomed as a partial victory.
Hizbullah was proven to be behind the terrorist attack on an Israeli tour bus at Bulgaria's Burgas airport that left six people dead and 35 wounded at the Black Sea resort town last year.
Lebanon, however, demanded last week that the EU keep Hezbollah off its list of terrorist organizations. The group has a sizable contingent in the Lebanese parliament as well as in its Cabinet, and in a letter to the EU, the government wrote "is an essential component of Lebanese society."
Monday's decision by the EU to label Hezbollah's military wing as a terrorist group will have far-reaching implications in terms of economic and other impacts on the organization, including visa bans on certain individuals and the freezing of assets belonging to the group.
British Foreign Secretary William Hague hailed the decision, and stated he did not thing it would destabilize Lebanon, where tensions between pro- and anti-Assad factions has already reached boiling point, and where sectarian enmity is never far from the surface.
"It is important for us to show that we are united and strong in facing terrorism," he added.