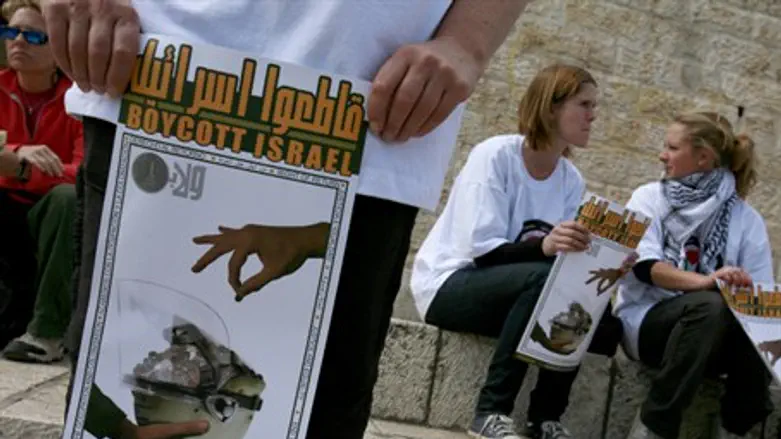 posters calling to boycott Israel
Flash 90
The UC Board of Regents appointed UC Berkeley senior Sadia Saifuddin as student regent-designate at its meeting Wednesday, despite some controversy over her selection, reported the Daily Californian.
Saifuddin's appointment was met with controversy during the meeting's public comment session when some raised concerns about her support of a movement to divest UC funds from companies affiliated with the IDF.
Saifuddin is a leader of the Muslim Brotherhood front group, Muslim Students Association (MSA), as well as Students for Justice in Palestine.
In a rare move, according to the Daily Californian, UC Regent Richard Blum abstained from the vote to approve Saifuddin, citing similar concerns regarding her political activity. All other regents voted in Saifuddin's favor.
This spring, according to the report, Saifuddin co-sponsored a UC Berkeley student government bill aiming to divest ASUC funds from companies that provide equipment, materials and technology to the Israeli military. Supporters cited concerns regarding Israel's alleged human rights violations in the region and encouraged the UC system to also take action in withdrawing investments.
During the public comment session, Saifuddin's critics alleged that her support for divestment would be a divisive force within the UC system and would alienate Jewish students.
Some, including ASUC Senator George Kadifa and former student regent Jonathan Stein, refuted those claims, supporting Saifuddin's appointment.
"Those who do know her personally know her to be a woman of openness," Stein said, according to the Daily Californian. "She invited students to Muslim student town halls (and) Muslim students to Jewish student town halls."
Although many regents disagreed with Saifuddin's position on divestment, they largely approved of her appointment, according to the report.
Blum abstained from the final appointment vote, saying that he strongly disagreed with Saifuddin's point of view but did not know her well enough to justify a negative vote.
"When you're going to be the student representative, you have to represent all the students, and you don't want to alienate a lot of people," Blum said.
After the vote, Saifuddin briefly addressed the meeting, thanking both her family for their support as well as the regents for the opportunity to serve the UC community.
David Horowitz and Jeffrey Wienir of the David Horowitz Freedom Center had sent an open letter to oppose Saifuddin nomination, saying that her confirmation in this prestigious role would be a "dangerous precedent to encourage escalated anti-Semitism on campus, which is already a big problem in the UC system."
"How is it respectful for the organizations that Sadia Saifuddin represents to sponsor 'Israeli Apartheid Weeks' which support terrorist organizations like Hamas and call for the destruction of the Jewish state?" Horowitz and Wienir wrote.
Representatives from the pro-Israel education group StandWithUs and the Simon Wiesenthal Center attended Wednesday's Board of Regents vote to speak out against Saifuddin's candidacy, reported JNS.org.
Roberta Seid, research-education director of StandWithUs, told JNS.org she told the regents they "should be trying to find a bridge builder, not a bridge burner" like Saifuddin to be their student board member.
"What I would call for [following the vote] is for the regents to re-double their efforts to speak against bigotry, anti-Jewish bigotry, and BDS, and that they should re-double their efforts to uphold an inclusive environment, tolerance, and intellectual responsibility," Seid said.