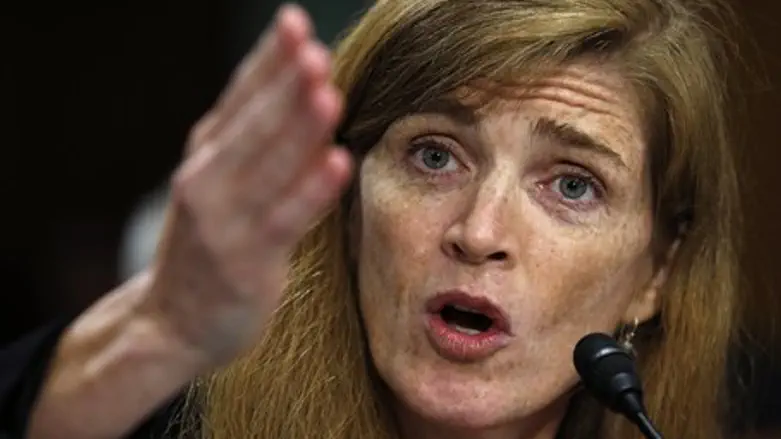 Samantha Power
Reuters
U.S. President Barack Obama's nominee for the position of UN ambassador on Wednesday slammed the global body's "unacceptable bias" against Israel and pledged to lobby hard to get Israel a seat on the Security Council, AFP reported.
Samantha Power, whose nomination was announced by Obama last month, would replace Susan Rice, who was appointed national security advisor.
Power, who also faulted the United Nations for failing to stop the slaughter in Syria, said in her testimony before the Senate Foreign Relations Committee that America enjoys a "special relationship" with Israel, whose "legitimacy should be beyond dispute, and its security must be beyond doubt."
She added, "Within this (UN) organization built in the wake of the Holocaust... we also see unacceptable bias and attacks against the state of Israel."
Not only did Power pledge to fight such bias, she said she would "absolutely" commit to seeking a first-time seat for Israel on the 15-member UN Security Council in 2018, according to AFP.
She has earned the backing of Republicans, including veteran Senator John McCain, who has described her as capable and qualified.
At the same time, Power has come under fire for past statements criticizing the Jewish state, including a 2002 interview in which she said that "external intervention" may be necessary to prevent "genocide" and "major human rights abuses" in the "Palestine/Israeli situation".
During that interview, Power responded to a hypothetical question and said that if given the opportunity she would advise the president to sacrifice billions of dollars of aid to the Jewish state, allocating the funds instead  to "the new state of Palestine."
Retired Lieutenant General William 'Jerry' Boykin, who is behind a push to block Power's confirmation, reportedly blasted her at an event earlier this month at the National Press Club.
"We should be proud to be Americans, and if you look at Samantha Power's track record there is a strong indication that her attitude is just the opposite," he said, according to AFP.
Republican Senators Marco Rubio and Ron Johnson pressed her to explain what she meant when she wrote in 2003 that America needs a "historical reckoning with crimes committed" by the U.S. government.
In a tense exchange, Rubio repeatedly asked what the US crimes were, but Powers merely replied that she would never apologize for America, and that "I believe the United States is the greatest country on Earth," according to AFP.
Power also spoke of "the absurdity of Iran chairing the UN Conference on Disarmament, despite the fact that its continued pursuit of nuclear weapons is a grave threat to international peace and security."
On Syria, she pointed to "the failure of the UN Security Council to respond to the slaughter in Syria -- a disgrace that history will judge harshly."
She also said it was vital to pressure Russia into supporting UN positions against Syrian President Bashar Al-Assad, who she said "has written a new playbook for brutality... in response to a democratic uprising."