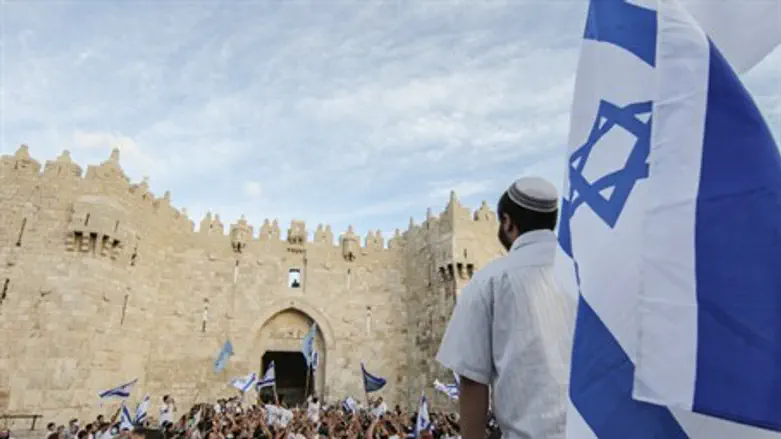 Damascus Gate
Flash 90
Two Arabs stabbed a hareidi-religious man near the Damascus Gate in Jerusalem on Tuesday evening. Jerusalem Police believe that the stabbing is nationalistically motivated.
A team of Magen David Adom paramedics was called to the scene and evacuated the man, aged 30, to the trauma room at the Shaare Zedek Hospital. He was listed in moderate condition and is suffering from stab wounds to the chest and back.
Arabs attacking Jews and others in the capital has become an increasingly common phenomenon.
Last Thursday, three Arabs attacked an 18-year-old Jew at the Jewish Quarter of the Old City. The Arabs kicked the Jew and spit on him. They then fled the scene, but police caught up with them and arrested them.
The 18-year-old victim did not require medical attention.
Late last month, a Jewish man was attacked by two Arabs on the Jerusalem Promenade.
The victim, a man in his early 20s, was jumped as he was walking along the promenade in the Armon Hanatziv neighborhood in southern Jerusalem.     
Both of the young Arab men who attacked the Jew fled when police arrived at the scene. The victim sustained mild injuries in the attack, and was able to make his way to a nearby hospital.
Three weeks ago, the Jerusalem District Court sentenced terrorist Adnan Rajabi to five years in prison for stabbing a hareidi man in eastern Jerusalem in April of 2012.
Immediately after the stabbing, the attacker fled the scene, leaving the victim bleeding. The stab to the stomach caused the victim severe bruises to his abdomen and liver and he required intensive medical care.