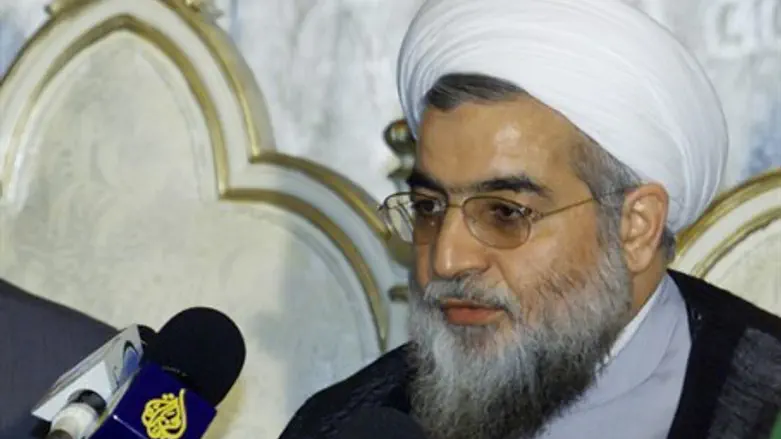 Iranian president-elect Hasan Rouhani
Reuters
Iranian president-elect Hasan Rouhani has sent messages to Syria's Bashar Assad and Hizbullah reaffirming his support for the two allies, as well as his support of confrontation with Israel.
Iranian-Syrian ties will be able to confront "enemies in the region, especially the Zionist regime," Rouhani said Tuesday, as quoted by the official IRNA news agency, adding that, Syria will "overcome its current crisis."
Rouhani also "lauded the Syrian nation for its resistance against western plots" and said Syria will "overcome its current crisis," the semi-official Fars news agency reported.
Iran's foreign ministry said earlier on Tuesday referred to Israel as "a warmonger regime," saying that Prime Minister Binyamin Netnayahu seeks to damage relations between Iran and the international community.
The message came in response to Assad's congratulatory message on the election of Rouhani, who is considered by the West to be a "moderate".
Netanyahu increased pressure on the White House and the international community on Sunday to take action regarding Iran's nuclear program.
Washington must demonstrate to Iran's newly elected president "by action" that "the military option which is on the table is truly on the table," the prime minister asserted.
Speaking via satellite on the CBS program "Face the Nation," Netanyahu reiterated that Iran must be forced to stop the enrichment of nuclear material, remove already enriched uranium from the country and shut down the Qom nuclear facility.
"They have to know you'll be prepared to take military action; that's the only thing that will get their attention," the prime minister said.
Netanyahu has described Rouhani as a "wolf in sheep's clothing" who would "smile and build a bomb."
Netanyahu said that while Iran has not yet crossed the "red line" in the nuclear timetable, it was nearing it. He also said that because Israel may "have to address this question of how to stop Iran, perhaps before the United States does."