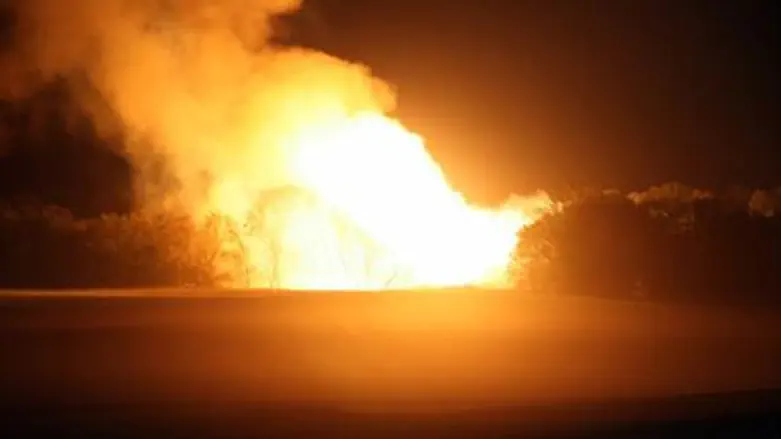 Gas pipeline explosion (illustrative)
Israel news photo: Flash 90
Egyptian security officials arrested a Palestinian Authority Arab man on Friday in connection to a bomb blast which targeted a gas pipeline in Sinai last week, security officials told the Bethlehem-based Ma'an news agency.
Mohamed Abu Hashem, 30, was detained in the Sinai Peninsula while trying to return to Gaza, Egyptian officials told Ma'an, and faces charges of blowing up a gas pipeline in north Sinai last Sunday.
Saboteurs blew up the pipeline, which supplied natural gas to Jordan, in two places.
One explosion shook the city of El-Arish, causing flames which could be seen from the distance, witnesses and security officials said.
A Jordanian government official confirmed that gas supplies to the energy-poor kingdom were cut.
"The gas supplies to Jordan stopped due to the attack," the official told state-run Petra news agency.
"The Egyptian authorities have informed us that they are currently evaluating the situation and the damage," he added without elaborating.
Egyptian gas covers 80 percent of electricity generation in Jordan, which imports 95 percent of its energy needs. The pipeline has been attacked at least 15 times since former President Hosni Mubarak was deposed in the January 25 Revolution in 2011.
The Sinai has seen an upsurge in lawlessness since the ouster of Mubarak that has sparked warnings from Western governments against travel to most parts of the peninsula.
The violence in the area has been on the rise as local terrorists capitalize on instability following the removal of President Mohammed Morsi by the army.
Egypt has begun to crack down on Sinai terrorists and has already killed scores of Islamist fighters - including 32 Hamas men - in recent days.
The arrest of a PA Arab man in connection to attacks on Egyptian interests will likely bolster growing calls by influential Egyptian figures for Egypt to sever ties with the Hamas authorities in Gaza.