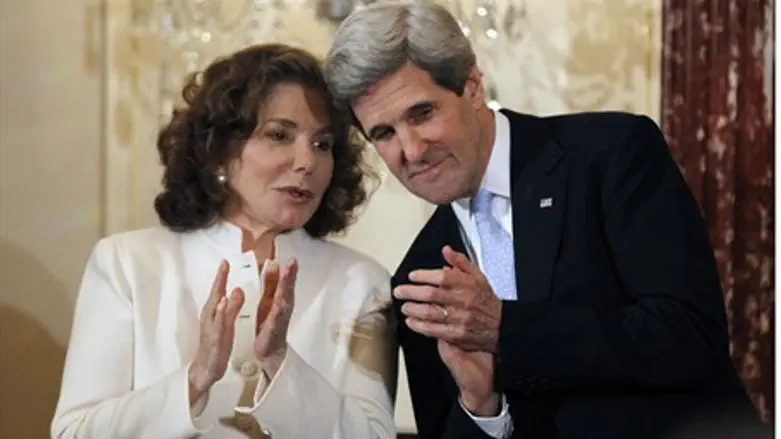 John Kerry and Teresa Heinz Kerry
Reuters
U.S. Secretary of State John Kerry has informed Israel that he will not be returning to the region until further notice, due to his wife's illness.
The secretary had planned to return at the end of this week to continue his shuttle diplomacy aimed at reviving the moribund final status talks between Israel and the Palestinian Authority.
PA Chairman Mahmoud Abbas is pushing Israel to freeze all Jewish construction activities in Judea, Samaria and parts of Jerusalem restored to the capital following the 1967 Six Day War, and to publicly agree to make the pre-1967 lines as a baseline for peace negotiations, prior to beginning the talks.
Netanyahu has called for talks without preconditions and instead is considering "good will gestures" such as the release of PA Arab prisoners or a partial freeze on Jewish building.
This week's visit would have been Kerry's sixth round in the region since March.
But his wife Teresa Heinz Kerry, 74, was unexpectedly rushed by ambulance to Nantucket Cottage Hospital on Sunday after experiencing seizure-like symptoms, accompanied by her husband. 
A spokesperson for the hospital said she arrived in critical condition, where she was stabilized before being flown with her husband to Massachusetts General Hospital in Boston, where she is currently listed in fair condition.
According to a news release, doctors have ruled out the possibility of heart attack, stroke and brain tumor, in addition to other triggers and conditions that could have caused the seizure-like symptoms that led to her hospitalization.
A popular speaker in her own right, Heinz Kerry was born in Mozambique, speaks five languages and worked as an interpreter for the United Nations. She is a well known philanthropist and backs numerous environmental causes through the Heinz family foundation.
Because her condition is slowly improving, John Kerry is presently expected to open the U.S.-China Strategic and Economic Dialogue in Washington D.C. on Tuesday, according to the release.