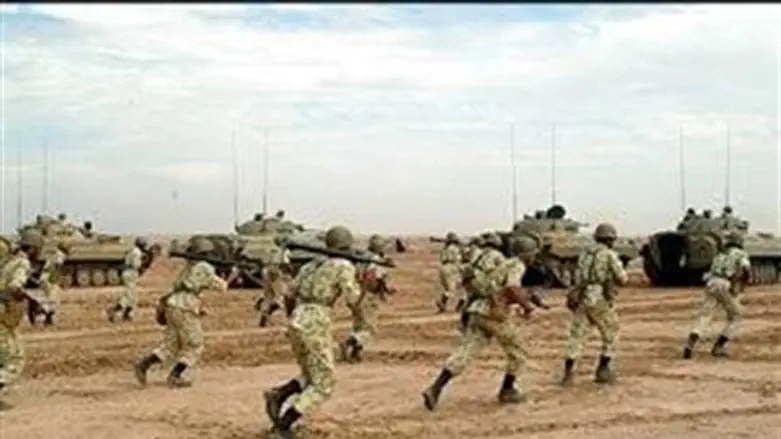 Egyptian army in Sinai
Israel news photo: Flash 90
Egypt is seeking permission to send thousands of soldiers to Sinai, in order to battle Islamist groups that have ensconced themselves there after fleeing Egypt's major cities. The Times of London said that Egyptian's military rulers had filed the request for a major deployment in Sinai earlier this week.
According to the Camp David Accords, in which Israel surrendered Sinai, liberated in the Six Day War, to Egypt, only police and other peace officers are allowed in Sinai without the permission of Israel and the U.S., also a signatory of the agreement. That tenet of the Accords essentially demilitarized Sinai, although Egypt has several times in the past sent in army troops to deal with specific security situations.
The current request would see the largest number of Egyptian troops in Sinai since the Yom Kippur War, and their mission would be more open-ended. Many Islamists, members of the Muslim Brotherhood and other groups, have fled Cairo and Alexandria in recent days as the army clamps down on their movements, in the wake of the deposing of former President Mohammed Morsi.
Egypt has already sent several brigades of troops into Sinai, but military officials say much more force is needed, as the soldiers are facing heavily armed terror groups affiliated with Al Qaeda. On Wednesday, Al Qaeda terrorists killed a soldier and civilian in Sinai, while Islamist groups fired missiles at an Egyptian army outpost in Sinai, killing two soldiers and injuring six.
Last weekend, riots broke out in El Arish, with Islamists facing off against Egyptian security officers. Egyptian army officials believe that the violence this weekend could be even worse, in the wake of the killing of dozens of Muslim Brotherhood members and Morsi supporters in Cairo by Egyptian soldiers.
The Times report said that Israel was inclined to accept the request, as is Washington. The report added that in recent days, Egyptian troops had killed dozens of terrorists, some of them Hamas terrorists from Gaza who had gotten through the border into Sinai to take up arms against Egyptian soldiers.