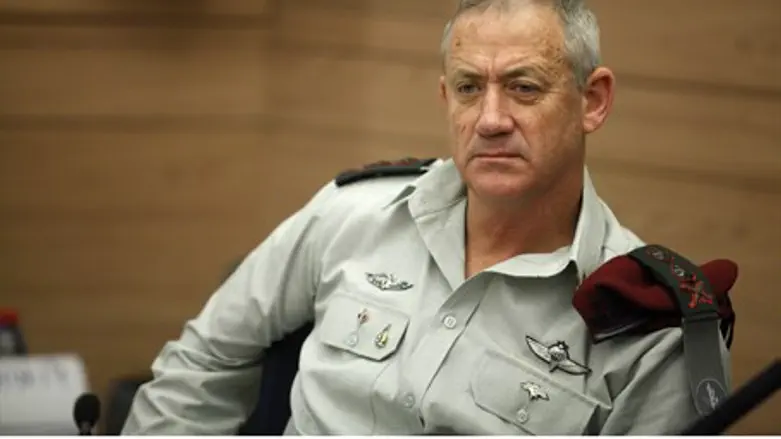 IDF Chief of Staff Benny Gantz
Israel news photo: Flash 90
IDF Chief of Staff Benny Gantz condemned on Wednesday the attack on a hareidi-religious soldier in Jerusalem's Mea Shearim neighborhood.
"This is a very serious incident and I am taking care of it in every possible way," said Gantz.
"It is very serious that a soldier was attacked simply for being a soldier and I expect the State to deal with it," added the Chief of Staff.
Gantz noted that hareidi-religious soldiers make an important contribution to the army, adding that through a true, thoughtful and tolerant process, the IDF will reach a good agreement with hareidim that "will also contribute to the State of Israel."
Tuesday's incident occurred when the soldier paid a visit to relatives in the neighborhood. He was pelted with rocks and stones, and chased by a mob of hareidi residents of the neighborhood.
The soldier managed to get into a building and was able to call police, who arrived on the scene within minutes. Police dispersed the mob that had gathered outside the building and rescued the soldier, who was unharmed. Rioters threw rocks at police, as well as at reporters. Residents said that police attacked them, waving nightsticks and clubbing passerby. Four people were arrested.
The hareidi-religious Shas party issued a strong condemnation of the attack.
"I am shocked and disgusted by the actions of the handful of extremist youth who attacked a Jewish soldier this evening without shame or pity," declared Shas head MK Aryeh Deri.
"Their way is not our way. Our sages have said that whoever raises his hand against his comrade is called 'wicked,'" Deri continued.
"I call for all heads of political parties to immediately restore the discussion to one of mutual understanding and peace, so that we do not see more things like this," he added.
Minister of Economy and Trade Naftali Bennett, head of the Bayit Yehudi party, condemned the attack but noted that generalizing against the entire hareidi community because of it was the wrong thing to do.
"The incident yesterday in Mea Shearim was extremely serious, and I trust the police to handle it. Whoever harms one of our soldiers will be punished. Period," he wrote in a post to Facebook.
"But what is no less dangerous is the condemnation of the entire hareidi community, when it's clear to everyone that this was a particularly extremist group," he cautioned.
Prime Minister Binyamin Netanyahu vowed a tough line against anyone threatening army personnel and added that "The best response to these lawbreakers is to increase the number of hareidi conscripts."