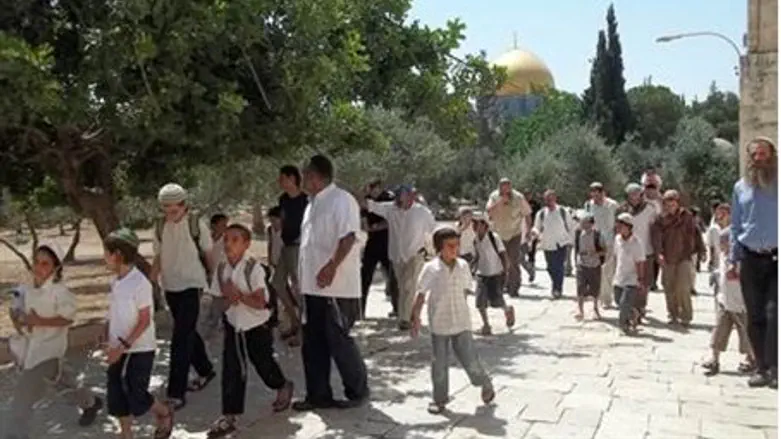 Children on the Temple Mount
Israel news photo: Joint Committee for Temple Mount Movements
Hundreds of Jews visited the Temple Mount on Monday in honor of the first day of the Hebrew month of Av. On the ninth of Av, Jews will mourn the destruction of the First Temple and Second Temple which once stood on the site.
Among the visitors were 150 children. Witnesses said that the children suffered due to the strict police regulations at the site, which prohibit Jews from showing any form of religious worship on the Mount.
Several children who bowed down in respect for the holiness of the site were given a warning by nearby police officers, they said. The officers reportedly threatened to arrest the tour guides.
The group coordinated its visit in advance, but organizers said the children were forced to wait outdoors for nearly an hour before entering the holy site despite that fact.
The children were allowed to enter only after being split into three groups, they said. Police strictly enforced the separation, they added, and did not allow the groups to enter together and even told children not to talk to their friends in other groups during the visit.
Witnesses said police told them the strict separation had been imposed so that the group of children would not be large enough to draw unwanted attention – and anger – from Muslim worshipers at the site. Muslim groups have frequently expressed rage over Jewish visits to the site; in May, a group of Jewish children was banned from the holy site at the last minute as Muslim worshipers threatened riots.
After visiting the Temple Mount itself, the visitors continued to a point north of the Mount where they celebrated the first of the Jewish month (Rosh Chodesh) with prayer and song.
credit: המטה המשותף לתנועות המקדש
credit: המטה המשותף לתנועות המקדש
credit: המטה המשותף לתנועות המקדש
credit: המטה המשותף לתנועות המקדש
credit: המטה המשותף לתנועות המקדש
credit: המטה המשותף לתנועות המקדש
credit: המטה המשותף לתנועות המקדש
credit: המטה המשותף לתנועות המקדש
credit: המטה המשותף לתנועות המקדש
credit: המטה המשותף לתנועות המקדש