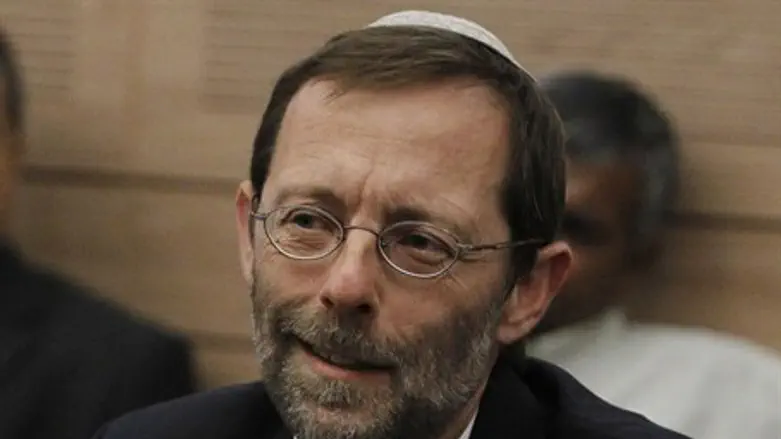 MK Moshe Feiglin
Flash 90
The new biometric database is bad news for Israelis, MK Moshe Feiglin (Likud) said on Monday.
The pilot program for Israel's biometric database got off the ground Monday, with the program available for residents of Rishon Lezion and Ashdod. Residents of these towns can go to their local Population Registry offices, submit their fingerprints and have their photos taken by a special camera that will analyze their facial characteristics, and be issued a smart identity card. The program will eventually be expanded to most of Israel's large cities.
Interior Minister Gideon Saar (Likud) has praised the initiative, saying that the new identity card will be next to impossible to duplicate, and the biometric database will put a stop to instances of identity theft and fake ID cards.
Feiglin, however, was much less enthusiastic about the project, telling Arutz Sheva that he was more concerned about those guarding the information in the database than he was about any potential thieves.
"We're giving the State unlimited abilities to control and manage civilian life," warned Feiglin, rejecting the arguments which say that the biometric database will enhance security and improve service to the public.
"We're talking about being biometrically marked. If we were offered to be marked on our forehead we would refuse. We'd also refuse a tattoo on our ear, but when the tattoo is transparent we agree," said Feiglin. "This is a tool without supervision. All the steering wheels are being controlled by the government. It does not matter if the people at the top are good or not."
Feiglin said that he plans to establish a new liberal lobby in the Knesset in a few days, which will protest against "this terrible law," as he put it. The lobby will include MKs from all Knesset factions, from the Bayit Yehudi's Orit Struk all the way to Dov Khenin of Hadash.
He called on Israelis to refuse to participate in the biometric pilot project, even if they are told that doing so will ease some of the bureaucracy in Israel. "The moment one joins the database, the data will be in the computer of the ruler who is only interested in what is best for him," said Feiglin.
"They are trying to reassure us that nothing will leak from the database, but it will definitely leak ... wherever there's a mouse hole there's also a mouse. I'm not afraid of thieves, it's the guards who I fear, and if religious Zionism did not understand that after the expulsion from Gush Katif, it will probably never understand it," he said.
As an alternative, said MK Feiglin, smart ID cards with a computer chip should be used instead of the biometric database.
Former Likud minister Michael Eitan also warned about the biometric database on Sunday, suggesting that people simply ignore the system and refuse to register.
"This is a struggle for the image of the state of Israel," he said. "Will we be a free people that ensures privacy for its citizens, like other advanced countries, or will we become the leading 'police state,' keeping a constant watch on citizens."
Since the system is voluntary, said Eitan, "I see absolutely no reason to participate in it and become the government's 'guinea pigs' in a project that will not do anything positive for Israel – not for the country, its citizens, or its security."
Also objecting to the program was opposition leader and Labor party head MK Shelly Yechimovich, who said that implementation of the program would cause "irreversible damage" to Israel.
"You can cancel credit cards that have been stolen, you can change a password that has been compromised, but you cannot change your fingerprints and face," she said, pointing out the risks in holding such information in a database that would be a major attraction for hackers.
"We all know that it is just a matter of time before corporations or hostile forces get hold of this information. The information will no doubt be used in a negative manner and will endanger many Israelis, such as IDF soldiers who will also have to give over their details in the program," said Yechimovich.