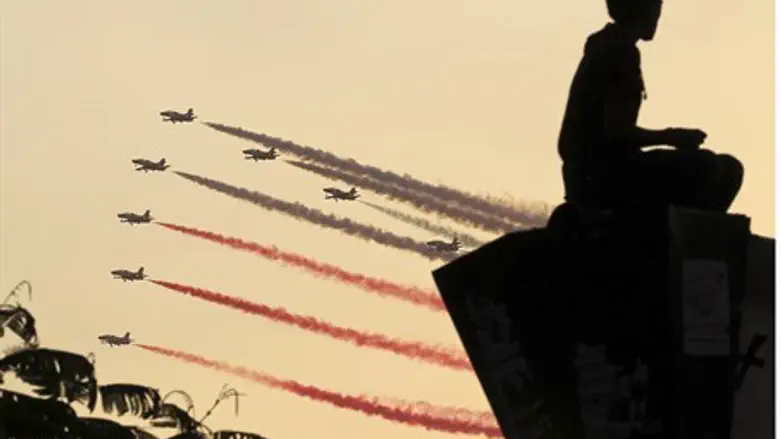 Egypt airforce
Reuters
A senior Egyptian Army official has announced a major operation in the Sinai Peninsula following another terror attack on the natural gas pipeline. The plan is being operationalized even as the army continues its role as shepherd to the newly-installed interim government following the coup d'etat that deposed Muslim Brotherhood-backed President Mohamed Morsi last Wednesday.
The gas pipeline sabotage jeopardized much-needed income to Egypt's coffers at a time when tourism is at an all-time low, and raises tensions between Cairo and Amman over the unreliability of an important energy source, since Egypt still supplies most of Jordan's gas through the pipeline.
In addition, Sinai has become a hotbed of terrorism, with various groups establishing terror training camps throughout the region, and using the area as a base from which to launch attacks against Israel.
The Egyptian Air Force is to play a significant role in the upcoming operation, according to a report published in the Egyptian Al Gomhuria newspaper.
A senior military official told the Al-Shorouk newspaper, however, that the Egyptian Army had already begun an operation in northern Sinai, in coordination with the Interior Ministry. There was no mention of whether Israeli forces were in the region.
Military activities are aimed at eliminating armed jihadists who have entrenched themselves in the region's mountainous areas. Forces were deployed intensively "in the Rafiah and Sheikh Zuweid border regions, an area with extremist organizations' strongholds," the source said. "In addition, the engineering corps destroyed more than 40 tunnels to prevent the infiltration of terrorists into Sinai."
Nevertheless, early Sunday morning Egyptian soldiers found themselves in a fire fight with terrorists at four military checkpoints in Sheikh Zuweid. No injuries were reported. Last week there were clashes between terror groups and Egyptian police Thursday night as terrorists fired rockets at a police station near the Gaza-Israel border. 
Terrorists also opened fire at the El Arish International Airport, and at three military checkpoints, prompting the Egyptian Army to close the Rafiah border crossing between Gaza and Egypt.