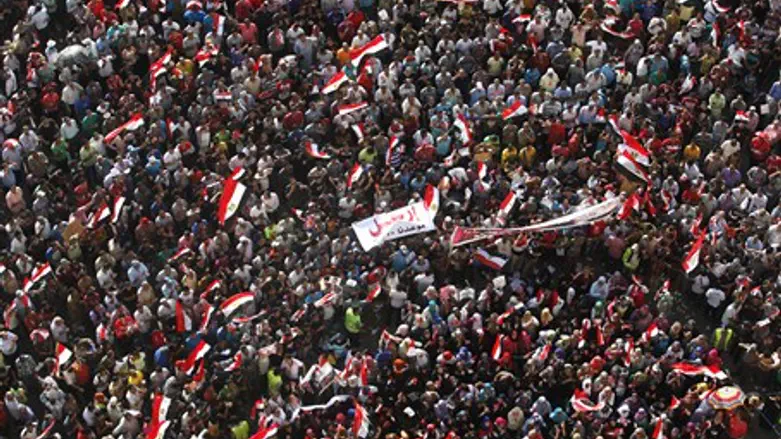 Anti-Morsi protesters in Tahrir square in Cai
Reuters
A senior member of the Muslim Brotherhood's Freedom and Justice Party (FJP) rejected on Monday the army's 48-hour ultimatum for politicians to settle the country's political standoff.
"Everyone rejects the statement of the armed forces," Yasser Hamza, a member of the FJP's legal committee, told the Al Jazeera network.
He added, "Solutions will be in the framework of the constitution. The age of military coups is over."
Earlier on Monday, Egypt's top general, Abd al-Fatah a-Sisi, warned President Mohammed Morsi that he had 48 hours to resolve the crisis in Egypt. If he did not, the army would "intervene."
The army would expect Morsi to lay out a road map of steps he plans to take to "satisfy the will of the people," and restore calm; otherwise, he said, the army would take control of the country.
Hours later, the army insisted in a second statement that it was not carrying out a coup, and said that it would not be part of the government, according to Al Jazeera.
Four ministers from Morsi's government resigned in the wake of the mass protests demanding his resignation. The Muslim Brotherhood announced that it would "defend itself" from anti-government protesters, in the wake of the trashing of its headquarters in Cairo earlier Monday.
Egypt's presidency held a press conference on Sunday night at the presidential palace in Cairo, where spokesman Omar Amer stressed the presidency's respect for the demands of the street but also emphasized the need for dialogue.
"We respect the demands of the street and we acknowledge that the political scene in Egypt is continuously changing," said Amer. "But initiatives are being announced every hour and communication is ongoing."