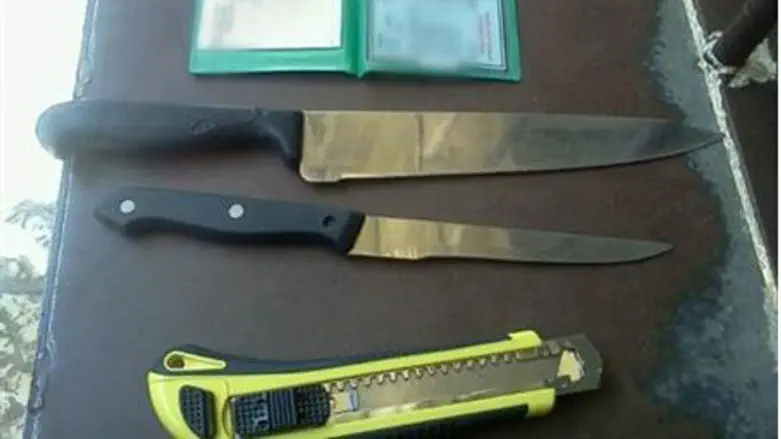 Knives confiscated from woman
Israel Police
A woman serving in the Border Police thwarted a planned stabbing attack by a female Arab terrorist in Hevron Monday morning.
The terrorist, who is a resident of Hevron and in her 20s, arrived at one of the entrances to the Cave of Machpela around 11:00 a.m.. She had come from the casbah area.
The woman aroused the suspicion of the Border Policewoman, who began carrying out a search, with security precautions.
Three knives in different sizes were found on the woman.
From initial questioning, it turned out that she had come to the Cave with the intent of carrying out a stabbing attack "against the Occupation" and that she planned to stab a member of the security forces there.
It also turned out that she had been arrested about a year ago, also for an attempted stabbing, and that she served some time in jail for this and was released a few months ago.
Lt. Col. Eliyahu Tzafrir, Deputy Commander of the Cave Battalion, said that "the policewoman's alertness and professionalism prevented the escalation of the event, and made it possible to thwart the terrorist's intentions in time."