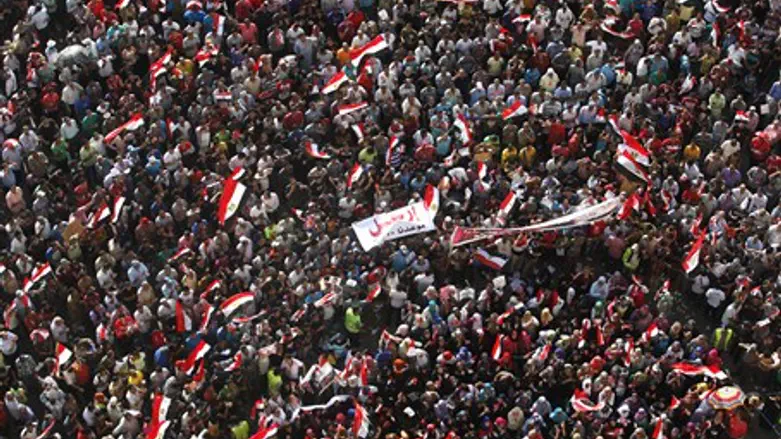 Anti-Morsi protesters in Tahrir square in Cai
Reuters
Huge crowds have gathered across Egypt to demand the resignation of President Mohammed Morsi on the first anniversary of his inauguration. Morsi loyalists are staging counter-demonstrations, vowing to defend the leader.
News sources report that the number of protesters in Tahrir Square has reached one million.
Morsi has left the main presidential palace and is currently at the Al Kuba palace, following the developments. However, there are reports from Cairo that protesters have reached that palace as well.
The total number of protesters thronging in squares throughout Egypt Sunday evening was estimated at about three million. There are large demonstrations in Port Said and Alexandria, along with Cairo.
The protest movement, Tamarod – a word that means "rebel" – says it is expecting up to 7 million people to join the protest, with large demonstrations scheduled in every significant population center.
Egyptian media says that about 60,000 people have left Egypt on 254 flights in the last 48 hours. Most of them are foreign nationals and Egyptians from the upper socio-economic classes.
The demand for the resignation of President Morsi comes on the one-year anniversary of his ascent to power.
Demonstrators waved red cards and chanted "irhal" ("leave"), promising to camp in the square until Morsi resigns, Al Jazeera reported. Some wore black headbands with "Leave, Morsi!" written on them. 
Meanwhile, Morsi's supporters also held a gathering, at the Raba El-Adwyia Mosque square in Nasr City, a suburb of Cairo.
Tamarod claims to have collected the signatures of 22 million Egyptians on a petition demanding Morsi's resignation.
Poverty is increasing, the protesters say, and inflation is not going away. The Egyptian pound has dropped in value by nearly 20 percent since morsi took office, foreign investment has been decimated, and businesses are hard hit by fuel and electricity shortages.
Morsi's November decree which shielded his decisions from judicial review has also made him less popular.
There is concern that the protests on Sunday could descend into violence. Egyptians have been stocking up on food and filling up their cars with gasoline in anticipation of unrest.
Four Muslim Brotherhood supporters have been killed in attacks on the group's offices in recent days, and two people were killed in fighting in Alexandria on Friday, including a U.S. citizen.
Tanks and other military vehicles have started to appear on the streets of Cairo. Police and troops have deployed to protect key buildings around the country, security officials said. The health ministry said hospitals have been placed on high alert.
Marchers were scheduled to set for the Ittihadiya presidential palace, close to the neighborhood where thousands of Morsi supporters were to hold their counter-demonstration.