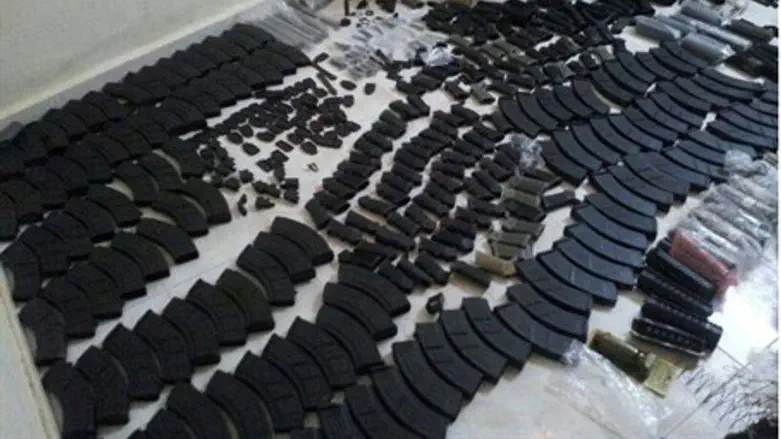 Weapons stash
IDF Website
IDF forces seized a large cache of illegal weapons overnight Wednesday, which were discovered in the homes of terror suspects in Shechem, the 
IDF Website 
reported.
Among the weapons seized were handguns, M-16 assault rifle parts, dozens of magazines and a large variety of ammunition and military equipment. Three suspects were arrested in connection with the weapons and transferred to security forces for questioning.
Overall, 19 terror suspects were arrested overnight throughout the Jordan Valley and Judea and Samaria regions.
In the past two months more than 100 bullets, IDF military equipment, a variety of improvised weapons, more than 100 ammunition clips, several Molotov cocktails, three pistols, five rifles, and over three knives were seized in ten different incidents.
Lt. Col. Peter Lerner said: "More than a dozen shooting incidents were reported since the beginning of 2013 in Judea and Samaria. Counterterrorism activities in the region are crucial to the prevention of such incidents."
"The IDF will not tolerate any threat to the safety of the citizens of Israel and will continue to act against those responsible."