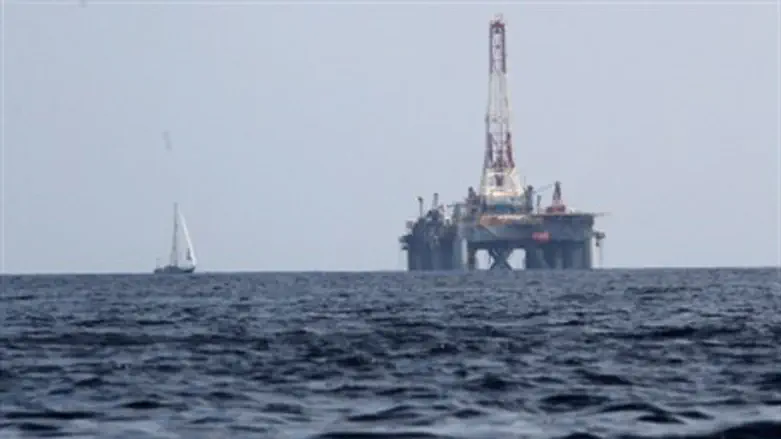 Gas rig in the Mediterranean
Israel news photo: Flash 90
Cyprus has signed a deal with the US-Israeli Noble Energy firm to build a liquified natural gas plant to exploit its untapped reserves.
A memorandum of understanding was signed between the island nation and a partnership group comprised of U.S.-based Noble Energy International and Israeli companies Delek Drilling and Avner Oil Exploration, AFP news agency reported Thursday.
The deal gives a green light to build a liquified natural gas (LNG) facility at Vassiliko, near the southern Cyprus resort town of Limassol, according to the report.
"The signing... represents the next milestone on the road map for the exploitation of gas reserves in Cyprus' Exclusive Economic Zone," Cyprus Energy and Commerce Minister George Lakkotrypis said at the official signing ceremony.
The island nation is located in the Mediterranean Sea, close to where Israel discovered natural gas off its own shoreline in 2010.
Turkey, which does not recognize the Greek-held section of Cyprus as a sovereign nation, strongly objects to natural gas exploration being conducted by Cyprus in the eastern Mediterranean.
Part of Block 12 in Israel's Tamar natural gas field extends into Cypriot territorial waters.     
Last month Prime Minister Binyamin Netanyahu and Cypriot President Nicos Anastasiades agreed at a meeting prior to Netanyahu's trip to China to strengthen bilateral ties and cooperate on military protection for gas fields common to both.
A few days earlier, Defense Minister Moshe Ya'alon met with his counterpart in Israel to discuss the issue.  "We intend to improve the preparedness of our navy in the Mediterranean to protect the gas facilities, and we certainly look forward to cooperation on this issue with Cyprus," Ya'alon told reporters.
In April, the two countries held a joint military exercise in the eastern Mediterranean that focused on the security of the region and of gas companies exploring their nations' natural reserves.