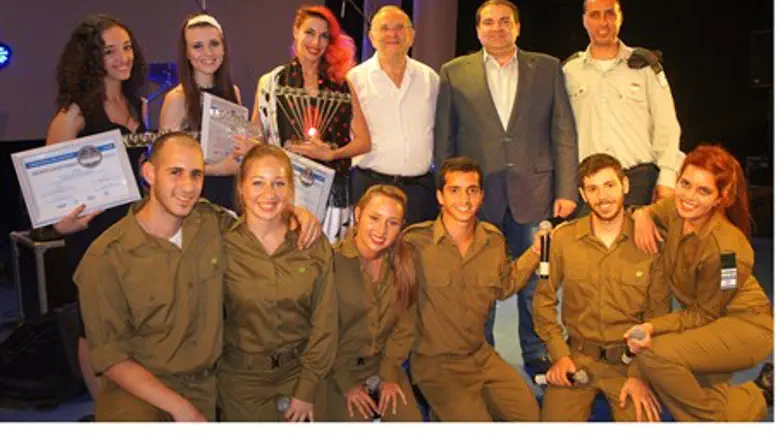 Contest winners, A. Levin, IDF Band commander
Photo: Shimon Breman
Twelve talented candidates competed in Kiev this week in the first-ever Hebrew song contest to take place in the former Soviet Union.
Monday night's winner was Maria Katzav Mikaterenberg, a gifted vocalist who has studied voice at City College in Ukraine for the past six months. Second and third place winners, selected by a panel of judges and support of the audience, were Yelena Geleckson of Voronezh and Elana Levine of Penza. Both are from Russia.
The highlight of the evening was a special performance by the IDF Military Band, which arrived in the capital of Ukraine specifically to perform at the competition.
"Israel is not only the source of security and the object of our prayers – it is also the center of Jewish culture," said Alexander Levin, president of the World Forum of Russian-speaking Jews, which sponsored the competition together with the World Zionist Organization and the Hallelujah Organization.
"Hebrew is a key element, and we are excited to see young Jews from the former Soviet Union sing today in the holy tongue. It is extremely exciting to have this competition in Kiev and hear the songs of those who started to dream in Hebrew on this ground, and fulfilled their dreams to make this language the official language of an independent Jewish State," Levin said.
Jewish leaders from around the world who were in the Ukraine to attend the Jewish Agency's Board of Governors meeting attended the competition, held June 24.
The contest is one of a series of similar regional competitions held throughout the world. Winners will gather for a final round to be held in Israel this October, following the High Holy Days.