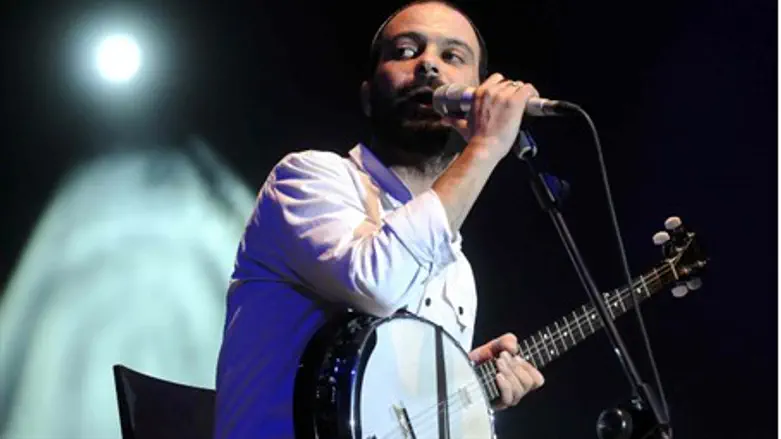 Amir Benayoun onstage
Israel news photo: Flash 90
A song about the Jewish return to Hevron recently led to an emotional meeting between a famous Israeli singer and a man who lost his family in the 1929 massacre of Hevron's Jewish community at the hands of local Arabs.
Singer Amir Benayoun has a new song, "Ima Tiri" ("Mother, look"), about the return to Hevron. Among those who heard it was 85-year-old Shlomo Slonim, whose mother, father and brother were slain in the massacre.
Shlomo, who was a one-year-old baby at the time, survived with serious injuries that affect his life to this day.
When he heard the song, Slonim decided he wanted to meet the men who wrote it. Benayoun and co-writer Moshe Klughept were happy to oblige.
The men met Friday morning in Slonim's home in Raanana. The home provides silent testimony to Slonim's personal story: the walls hold pictures of the family that died when he was a baby, and research on the massacre sits on his bookshelves.
During the meeting Slonim told the story of his life. An emotional Benayoun said, "Shlomo's story gives a chilling meaning to this song." The story "gives this terrible event a face and names that will be in my mind when I perform the song," he added.
"It's a miracle that you're here with us today," he told Slonim. "Your personal story should stay in our minds."
"It's amazing that you built such a wonderful family here. We could all learn a lot from you about human courage," he added.
He told Slonim that he would dedicate his next rendition of the song to him and his family.
"Mother, Look"   (English translation)
Mother, look, so much time has gone by, I've returned to you
Mother, listen, my voice is hoarse on the mountaintop, I've returned to you
In your alleyways lie pieces of my life, and my fathers' lives
The signs of your life lead to me
Chorus:
The fathers, the four mothers
In your veins runs the history of our lives
That which you have left us -- your ways, our mother,
Always links to us.
Mother, look, so much time has gone by, yet I've returned to you
Mother, look, although I was delayed, I have returned to you
Mother, don't cry, we are here, your sons and daughters
I remembered who I was right away when I returned to you