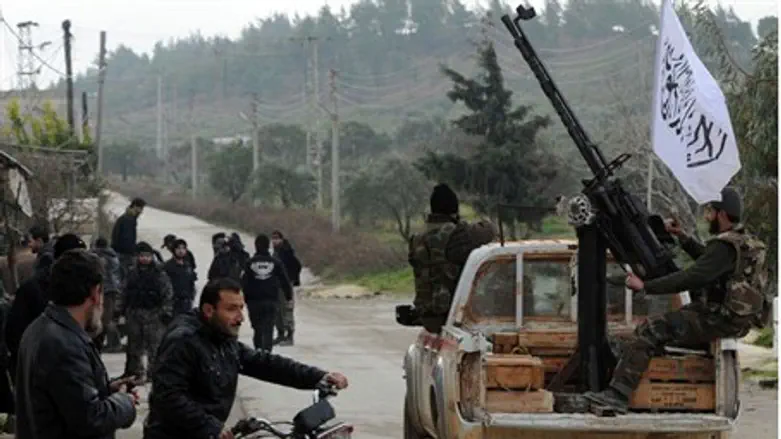 Syrian rebels patrol in the northwestern town
AFP photo
The first delivery of heavy weapons has arrived on Syria's front lines following President Barack Obama's decision to put Western military might behind the official opposition, rebels told the British Daily Telegraph on Wednesday.
The sources told the newspaper that Russian-made "Konkurs" anti-tank missiles had been supplied by America's key Gulf ally, Saudi Arabia. They have already been used to destructive effect and may have held up a promised regime assault on Aleppo, the report said.
A handful of the missiles were already in use and in high demand after opposition forces looted them from captured regime bases.
More have now arrived, confirming reports that the White House has lifted an unofficial embargo on its Gulf allies sending heavy weapons to the rebels.
Last week, the White House said it would send military support to Syria's opposition after concluding that President Bashar Al-Assad's regime had used chemical agents against them.
Unlike rocket-propelled grenades, the Konkurs – Contest in English – can penetrate the regime's most advanced tanks, Russian-made T72s, noted the Telegraph.
"We now have supplies from Saudi Arabia," a rebel source said. "We have been told more weapons are on their way, even higher-end missiles."
At the G8 this week, Russian President Vladimir Putin condemned the West's attempts to send arms to the opposition, even though he did not rule out fulfilling existing arms contracts with the regime.
On Syria's front lines, rebels are already using Russian missiles to destroy the regime's Russian tanks, the Telegraph reported.
Thanks to Russian backing over the last half century, Syria's army was the best equipped in the region, and its captured bases have handed a limited number of anti-tank and anti-aircraft missiles to the opposition.
But the number of Konkurs missiles seen in videos escalated at the beginning of this month, tangible evidence of the new Saudi supply line, noted the newspaper.
Assad warned this week that Europe will "pay the price" if it arms Syrian rebels. European Union foreign ministers agreed at the end of May to lift an arms embargo in order to supply weapons to Syrian rebels, but British Foreign Secretary William Hague said at the time that "no immediate decision" would be made on sending arms to the rebels.
"If the Europeans deliver weapons (to rebels), Europe's backyard will become a terrorists' place and Europe will pay the price for it," Assad told the German newspaper Frankfurter Allgemeine Zeitung.
He said that chaos in Syria would result in "the direct export of terrorism to Europe", adding, "Terrorists will return to Europe with fighting experience and extremist ideologies."
Referring to statements that his regime has used chemical weapons on rebels, Assad said, "If Paris, London and Washington had only one piece of evidence backing up their allegations, they would have unveiled it to the world.