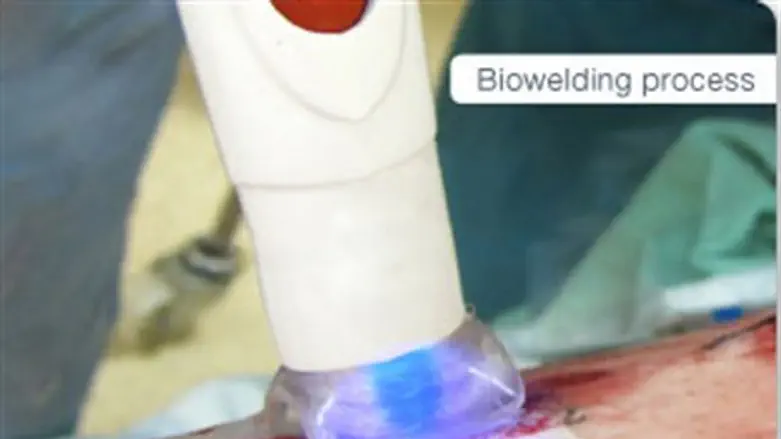 IonMed Biowelding process
Photo: courtesy of IonMed.com
An Israeli company has come up with a way to close incisions without stitches or staples, leaving a seamless closure.
The technology, IonMed Plasma Tissue Welding, uses a cold plasma biowelding device called the BioWeld1.  The system is designed and engineered to be reliable and easy to use. About the size of a shoebox, the device has a relatively small footprint. Intuitive; two different modes of operation. BioWeld1 has four main components: helium tank, main unit, hand-piece, disposable tip.
It is the first cold-plasma surgical system to reach advanced human clinical stages, and is expected to reach the market later this year.
Results from a clinical study led by Prof. Abrahamyan at the Republican Institute of Reproductive Health, Perinatology, Obstetrics and Gynecology in Yerevan, Armenia recently demonstrated the safety and effectiveness of the system.
Developed by Yokneam-based IonMed, a company founded in 2009, the system uses plasma – a gas in which a proportion of the particles are ionized.
IonMed researchers found that cold plasma may allow doctors to use of certain medical applications which cannot be addressed by thermal plasma and other surgical energy system. One of those uses was the closure of surgical wounds by welding together tissues, thus obviating the need to use staples or sutures, potentially providing better, more consistent cosmetic results and fewer wound infections.
In the study, surgeons used the BioWeld1 system to close skin incisions of 16 women undergoing Caesarean section by welding them together using cold plasma and a specialized film developed by the company. The surgeons did not use any sutures or surgical staples to close the skin. Surgeons evaluated the integrity of the wound, the likelihood of complications including infections and the cosmetic results several weeks following the procedure.
"The results from this study are very encouraging and in my opinion, set the stage for more advanced research on external as well as internal surgical applications," said Professor Gian Carlo Di Renzo, MD, Professor and Chairman Dept. OB/GYN and Centre for Perinatal and Reproductive Medicine, Santa Maria della Misericordia University Hospital San Sisto - Perugia, Italy.
"I am very pleased with the study findings and our system's performance, " added Amnon Lam, IonMed's CEO. "We believe that our technology may assist in key applications such as tissue welding, intestinal anastomosis and treatment of burns and chronic wounds.
"We are currently expanding our capital base in order to launch the first cold plasma-based surgical device, while planning the next phase of our clinical and technological development."
The company expects to receive the CE mark later this year.