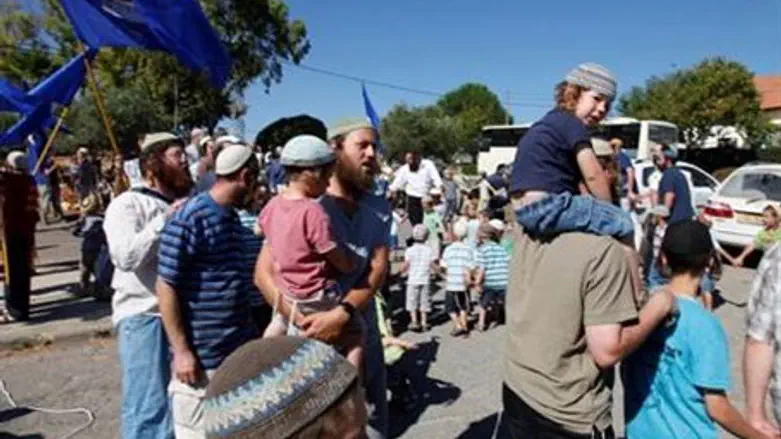 Support for Samaria 'spies'
Israel news photo: 'Ishi Hazani,' Merkam Studio
The "Samaria spy" affair came to an end Wednesday morning as the "spies" were sent to jail for three months.
Akiva Hacohen and Effie Haykin were convicted by the IDF of having prevented home demolitions by reporting troop movements to activists.
Their hometown of Yitzhar in Samaria (Shomron) sent them off with a farewell party. Residents of the town lined the road as the two men were driven to prison, singing and dancing in a show of solidarity.
"We see what Akiva and his friends did as an act of real bravery," declared a town representative. "We are proud to escort them this morning… Our support and help will not end here."
Hacohen and Haykin were convicted of warning outpost residents when they saw IDF troops heading in their direction to demolish homes, thus allowing activists to gather at the scene and attempt to prevent the demolition with their bodies.
They were initially charged with espionage, but were ultimately convicted of the lesser charges of gathering information of military value, entering a closed military zone, and conspiring to riot after agreeing to a plea bargain.
Hacohen said Wednesday that he has no regrets. "This morning we merited to fulfill the rare mitzvah [positive command] of sanctifying G-d's name," he declared.
"We are happy to do this, we are not sorry for the things we did for the sake of G-d's honor," he continued. "We are going into jail with joy, and we will use our time there to grow stronger in Torah study and to support our fellow Jews, and we will come out with even more strength to sanctify His name in this world."
Prior to their jail term the two spent almost a year under strict house arrest. Akiva Hacohen had previously been given a preemptive restraining order and forced to relocate to Jerusalem.
His wife, Ayelet Hashachar Hacohen, has accused police of harassing her family.
Photos courtesy of "Ishi Hazani," Merkam Studio