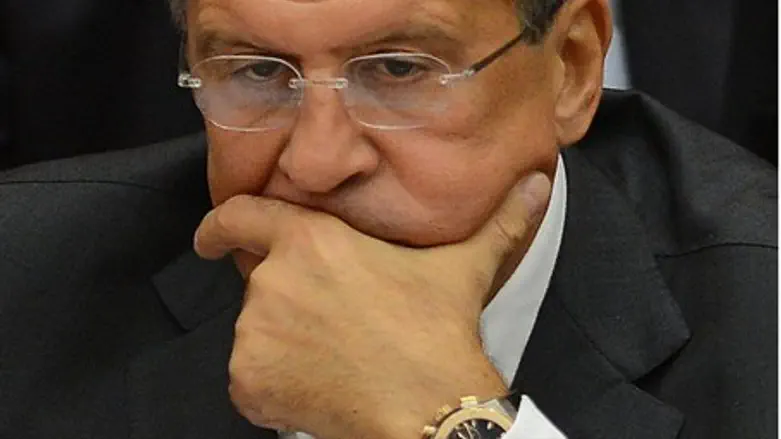 Russian Foreign Minister Sergei Lavrov
AFP/Emmanuel Dunand
Iran is prepared to halt its enrichment of 20-percent uranium, Russian Foreign Minister Sergey Lavrov said on Tuesday, according to Russia Today.
Lavrov urged Western nations to end their sanctions against Tehran.
"For the first time in many years, there are encouraging signs in the process of settlement of the situation with the Iranian nuclear program," he was quoted as having told Kuwait's KUNA news agency.
"Without going into details, the Iranians confirm the most important [point]: Their readiness to stop 20 percent uranium enrichment at its current levels," Lavrov said. "This could become a breakthrough agreement, significantly alleviating existing problems, including concerns about the possibility of advanced uranium enrichment to a weapons-grade level."
Such a move "implies significant reciprocal steps by the Six," the minister added, referring to the P5+1 group of world powers seeking to peacefully resolve the issue of Iran's nuclear program.
"The international community must adequately respond to the constructive progress made by Iran, including gradual suspension and lifting of sanctions, both unilateral and those introduced by the UN Security Council. It would be a shame not to take advantage of this opportunity," Lavrov concluded.
The sanctions that have been slapped on Iran have hurt its economy. Several months ago the Iranian currency plummeted to an all-time low. Previous sanctions targeting Iran's oil industry have resulted in the country's exports also falling dramatically.
At the same time, the Islamic Republic has continued its nuclear program despite the sanctions, and it appears as though ordinary citizens have been hit the hardest.
The United States announced new sanctions on Iran two weeks ago, this time targeting the country's currency and automobile industry.
News of Iran's possible concessions over its nuclear program comports with promises made by Iranian President-elect Hassan Rowhani, who vowed to make the program more transparent.
Still, the new president stressed on Monday that Tehran would not consider halting the country's uranium enrichment activities entirely.
Rowhani insisted that Iran's nuclear activities are "within the framework of law," and dubbed the international sanctions "baseless."
Defense Minister Moshe Yaalon said on Monday that he was doubtful that Iran's new president will bring any change in that country's nuclear aspirations.
"There is no doubt that the Iranian people want to see change, but I'm not sure Rowhani, who is an Ayatollah, will bring the change that the Iranian people expect to receive," Yaalon told France's Foreign and Defense Ministers.
"The one who makes decisions is Supreme Leader Khamenei, and therefore the Iranian nuclear program must be stopped one way or another. The Iranians feel they can advance their nuclear program without paying a price, and therefore cannot be allowed to escape from making a decision. Only a combination of pressure - sanctions, diplomatic isolation and a viable military option - can bring progress through the diplomatic channel."
Prime Minister Binyamin Netanyahu warned world powers on Tuesday against holding "drawn out" negotiations with Iran on its nuclear program following the election of its new president in Tehran.
"Iran should not be allowed to gain time by holding drawn out talks" with the international community, Netanyahu said during a meeting with Canadian Foreign Minister John Baird.
"Today, it is indispensable to keep the pressure (on Iran). We should not surrender to illusions."