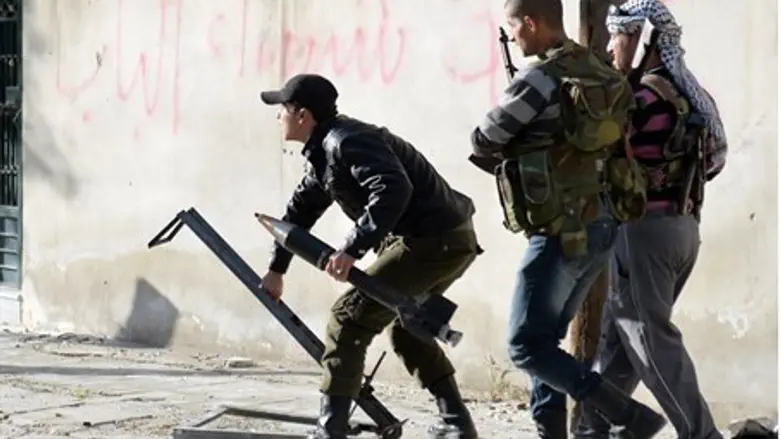 Rebel fighters prepare to launch a rocket
AFP photo
Thirty-five Americans and more than 3,000 other foreign citizens have been killed fighting in Syria, Hizbullah's Al-Manar television has claimed.
Al-Manar reported that 729 Saudi citizens, 479 Egyptians, 439 Lebanese, 439 Chechnyans, 301 Afghans, 263 Libyans, 261 Pakistanis, 208 Iraqis, and 188 Russians were among the dead.
Also killed were smaller numbers of citizens of Jordan, Turkey, Tunisia, Kuwait, Yemen and more, as well as 90 French citizens, 67 German citizens, 66 British citizens and 45 Belgians, the station claimed.
The report was referring to those killed fighting alongside rebel forces in Syria. The phenomenon of foreign citizens, including Western citizens, fighting alongside the Free Syrian Army is well-known.
The foreign fighters have been termed "mujahideen," the Arabic term for Muslims seen as fighting a holy war. Western security agencies have expressed strong concern over the phenomenon, and over the possible effects "the day after," when the fighters return to their home countries with military training.
However, Al-Manar is not an objective source regarding numbers. Hizbullah strongly supports embattled Syrian President Bashar Assad, who has attempted to portray the rebels as foreigners as part of his battle for support from his citizens.
Assad has also had foreign support in the form of additional troops, primarily from Hizbullah and Iran.
At least one foreign citizen killed fighting Assad did not make it onto the list: a Canadian citizen who is believed to have carried out a suicide bombing in Damascus on February 21 of this year.