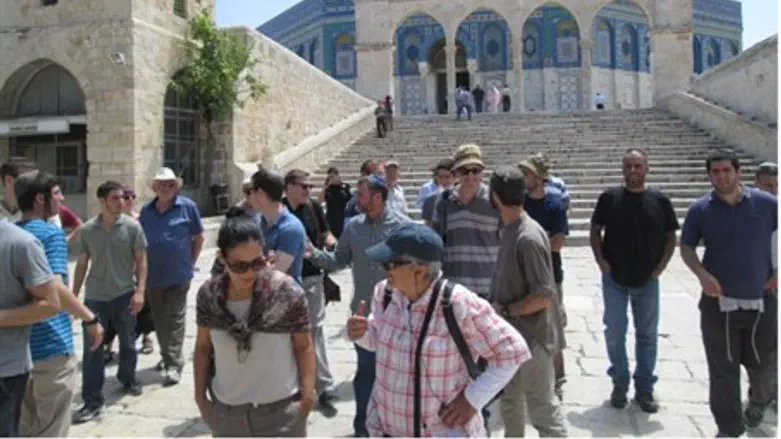 Journalists tour Temple Mount
Temple movement
A group of leading journalists, most of them with religious backgrounds, toured the Temple Mount Thursday, and were accompanied by Temple Movement activists.
The group included Yinon Magal (Walla! news), Amit Segal (Channel 2), Kalman Libeskind and Erel Segal (both of Maariv / Makor Rishon), Benny Lis (formerly of Channel 1) and Nadav Shragai (formerly of Haaretz).
Some of the journalists, this was their first time on the Mount. Some brought their children with them.
The opinion-shapers viewed remnants of the Temple and listened to a historic review of the Mount's history, in the years when it held the Jewish Temples and in subsequent times. Some of them gave short lectures themselves and opined about the chances of rebuilding the Temple.
They also witnessed the Muslim-operated tractors working on the mount, soccer games by Muslim children, shouting from groups that are averse to Jewish visits, and construction work.
Archeologist Shimon Riklin, who initiated the tour, said that he would organize more tours like it. He invited people interested in taking part to follow his Facebook page.