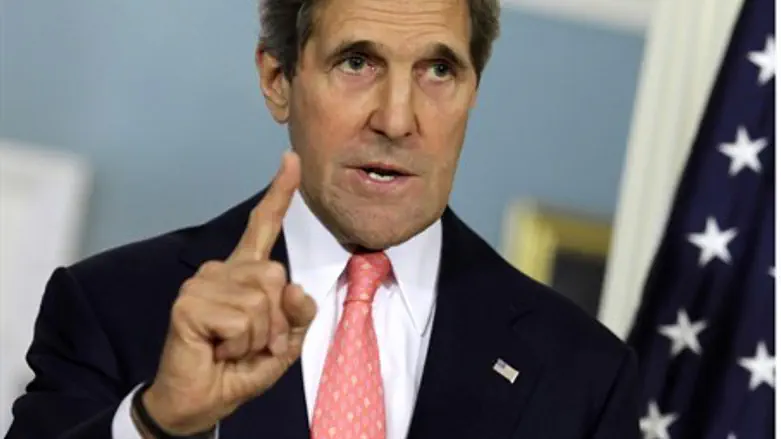 U.S. Secretary of State John Kerry
Reuters
The United States is considering what steps it can take in order to help the Syrian opposition, Secretary of State John Kerry said on Wednesday.
"We have said that we will do everything we can, that we are able to do, to help the opposition achieve that goal and to reach a point where that can be implemented, and that's what we trying to do," Kerry said during a joint news conference with British Foreign Secretary William Hague, according to the AFP news agency.
He said the U.S. administration was meeting "to talk about various balances in this issue right now."
Syrian President Bashar Al-Assad's choice of weapons "challenges anybody's standards of human behavior and we're going to have to make judgments ourselves about how we're going to be able to help the opposition deal with that," Kerry said, according to AFP.
He stressed, "Nobody wins in Syria the way things are going. The people lose and Syria as a country loses."
Reports this week said that President Barack Obama is close to approving arms for the rebels fighting to oust Assad.
Officials said that the Obama administration could decide this week to approve lethal aid for the rebels and are also scheduled to weigh the merits of a less likely move to send in U.S. aircraft to enforce a no-fly zone over Syria.
To date, President Obama has only committed non-lethal aid, despite lawmakers' calls for more forceful action from the U.S. as the civil war there intensifies and threatens neighboring countries.
One of the reasons for the hesitation in arming rebels is that they include radical, jihadist groups such as the Al-Nusra Front, which has pledged allegiance to Al-Qaeda chief Ayman al-Zawahiri.
Hague said on Wednesday that Britain and its allies must be "prepared to do more" to save innocent lives in Syria.
"The United Kingdom believes that the situation demands a strong, coordinated, and determined approach by the UK, the U.S., and our allies in Europe and the region," Hague said, according to AFP.
Calling the conflict in Syria "the most urgent crisis anywhere in the world today," Hague warned that Assad's regime "seems to be preparing new assaults, endangering the lives and safety of hundreds of Syrians who are already in desperate need."
"The scale of the regime's repression and the human suffering that it has caused beggars belief -- a campaign of murder and tyranny that they have waged for more than 800 days now. It is not only a moral outrage -- it's a grave threat to the wider region," the British minister said.
He confirmed that he had discussed the Syrian conflict, now in its third year, with Kerry in their talks, saying the "innocent victims of war and repression" had been "at the forefront of our minds."
Kerry insisted the goal of diplomatic efforts was to reach a political solution and transition of power that "gives the Syrian people the chance to have a new beginning where they choose their future leadership."