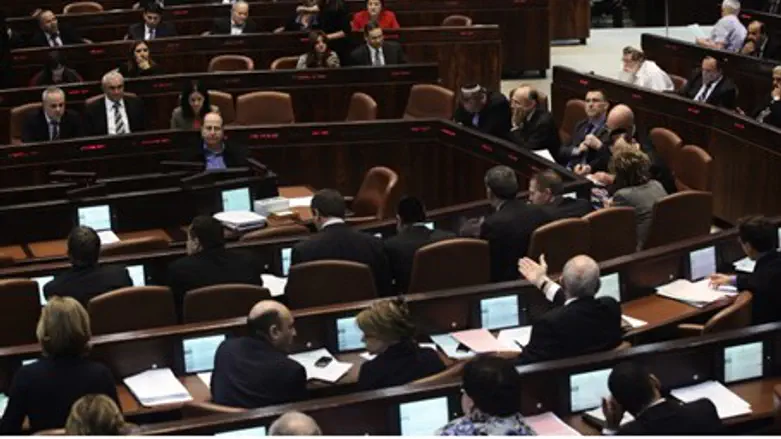 Knesset plenum
Israel news photo: Flash 90
The public has a right to know what financial interests Members of Knesset and ministers have that could influence their voting, two MKs have said.
MKs Mickey Rosenthal (Labor) and Penina Tamanu-Shata (Yesh Atid) have proposed a law that would make MKs' relevant financial holdings, and those of immediate family, public. The information would be published on the Knesset website.
MKs are currently required to disclose their financial holdings before taking office, but the information is kept in the Knesset safe and is not revealed to the public.
The law would apply only to income that could be politically relevant, Rosenthal explained, speaking to Arutz Sheva.
"The public doesn't need to care what I have as a public representative if I earned those properties before I was elected, but we need to expose information that could create a conflict of interests," he said.
He gave an example of an MK who owns farmland that could be approved as residential land during a particular Knesset hearing. In that case, he said, the public should know, and the MK should not participate in the hearing.
The public right to know would continue until one year after the MK or minister leaves office, he said.
MKs have fiercely opposed similar laws in the past. Rosenthal believes his law will be different. The previous laws, he said, were much farther-reaching, and would have exposed MKs' personal finances in their entirety.
The proposed law does not include sanctions on MKs or ministers who refuse to make their business dealings public. Rosenthal argued that the law would be effective even without sanctions, because it would create public pressure on those who refuse.