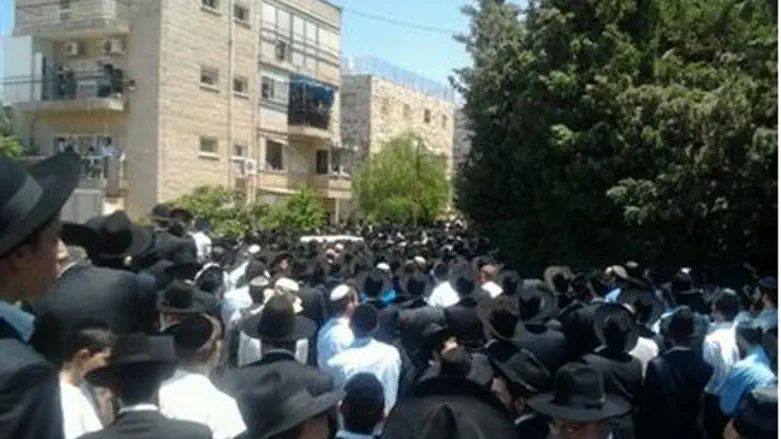 Rabbi Neuwirth's funeral
Arutz Sheva
Thousands attended the funeral of Rabbi Yehoshua Neuwirth Tuesday.
The procession began at his home at 10 Bergman Street in the Bayit Vegan neighborhood of Jerusalem. It passed through the Netivot Hochma yeshiva, which he founded, and reached the Mount of Olives, where he was buried.
Rabbi Neuwirth's book, Shemirath Shabbath Kehilchathah, has assisted countless Jewish homes in applying the laws of the Sabbath to modern life.
Photos by Moshe Mizrachi, News 24.
ירושלים: אלפים במסע הלווית הגרי"י נויברט זצ"ל
ירושלים: אלפים במסע הלווית הגרי"י נויברט זצ"ל
ירושלים: אלפים במסע הלווית הגרי"י נויברט זצ"ל
ירושלים: אלפים במסע הלווית הגרי"י נויברט זצ"ל
ירושלים: אלפים במסע הלווית הגרי"י נויברט זצ"ל
ירושלים: אלפים במסע הלווית הגרי"י נויברט זצ"ל
ירושלים: אלפים במסע הלווית הגרי"י נויברט זצ"ל
ירושלים: אלפים במסע הלווית הגרי"י נויברט זצ"ל
ירושלים: אלפים במסע הלווית הגרי"י נויברט זצ"ל
ירושלים: אלפים במסע הלווית הגרי"י נויברט זצ"ל
ירושלים: אלפים במסע הלווית הגרי"י נויברט זצ"ל