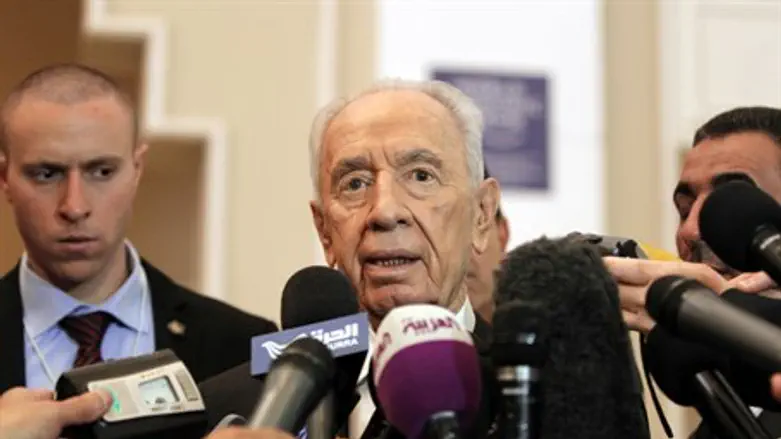 Shimon Peres
Flash 90
President Shimon Peres on Monday once again expressed his support for a "two-state solution" for the Arab-Israeli conflict, warning that the lack of stability in the Middle East is a cause for concern.
"There is a broad consensus about the idea of two states, and it will come to fruition as a result of direct negotiations," Peres claimed during a dinner with visiting Colombian President Juan Manuel Santos.
"We do not wish to control another nation, and therefore at the end of the process the Palestinians will have their own state," he added.
The comments come in the wake of an argument within the coalition about the "two-state solution," which started last week after Deputy Defense Minister Danny Danon spoke out against the idea in an interview with the Times of Israel. He noted that if Prime Minister Binyamin Netanyahu brings the issue of a Palestinian state to a vote in the government, nobody will vote in favor.
Netanyahu's office was quick to distance itself from Danon's statements, saying they "do not represent the position of Prime Minister Binyamin Netanyahu and the government of Israel."
Danon's comments resulted in his being attacked, mostly by members of the Hatnua party chaired by Justice Minister Tzipi Livni, who has been placed in charge of the negotiations.
Environmental Protection Minister Amir Peretz of Livni's party slammed Danon's comments, saying, "Anyone who tries to bury the idea of two states gives life to the idea of a binational state and endangers the future of Zionism."
Livni herself also criticized Danon on Monday, saying that Netanyahu will "have to decide whether to allow 'Danonism' to take over the government."
"He will decide whether the decision will be given to extremist groups that do not want a peace process and will find any possible reason and excuse to avoid it, or to forces that understand that a diplomatic solution is in the interest of Israel," she said.
Peres's comments come two weeks after he publicly called to resume peace negotiations with the Palestinian Authority, and claimed during a conference in Jordan that the overwhelming majority of Israeli citizens favor a return to the 1949-1967 borders.
The office of president in Israel is a titular one, devoid of political powers. Peres has a different view of his role, however, and regularly intervenes in diplomacy.
His comments were dismissed by government ministers, who clarified that Peres represents only his opinion and not the official one of the Israeli government.