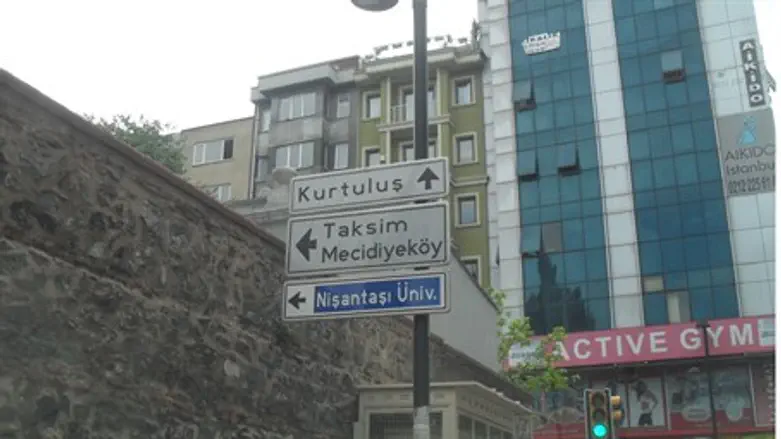 Near Taksim Square, Istanbul
Israel news photo: Arutz Sheva
Tensions are rising in Turkey as Prime Minister Recep Tayyip Erdogan begins to lose patience and orders police to "intervene" with protesters across the nation.
Attacks on demonstrators were reported in various cities, particularly in the capital, Ankara, and in Adana, according to a report in the English language edition of the Turkish Hurriyet newspaper.
Police used TOMA water cannon and tear gas to disperse the crowds that gathered in Ankara's Kizilay Square, and dismantled tents set up in Kugulu Park in solidarity with protesters in Istanbul's Gezi Park.
Protesters were also blocked by police in Adana as they marched to meet up with a second group that was reportedly attacked by a group of Islamist AK Party supporters the night before.
Thousands of protesters also gathered in Edirne and Izmir in solidarity with the Gezi Park demonstrators, with some 10,000 gathered in Izmir, and 2,000 in Edirne according to the report.
The protests against the government began a week ago when trees were uprooted in Gezi Park in accordance with a plan to redevelop the area. The government's intent to create underground traffic tunnels and upscale office buildings, condominiums and a shopping mall on the site of the park, one of the few green spaces left in the crowded ancient city, infuriated many of its residents.
An initially brutal police response to the protests sparked nationwide demonstrations that have threatened to grow into a groundswell against the increasingly conservative Islamist regime run by Erdogan, who recently tried to clamp down on the sale of alcohol.