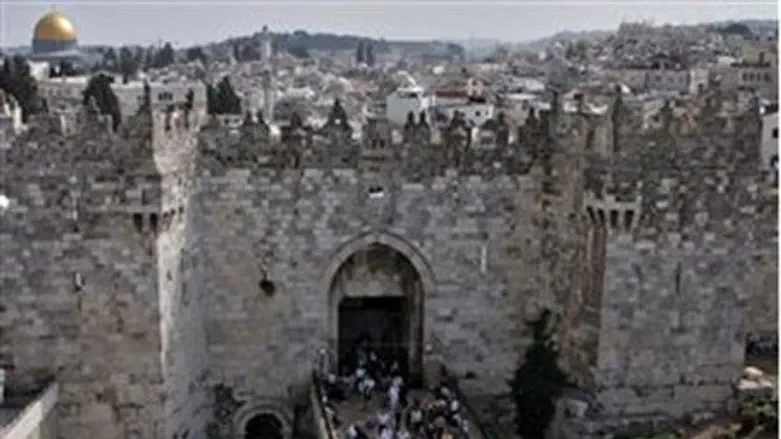 Jerusalem's Old City
Flash 90
Arab thugs stoned and attacked with bricks and bottles a group of Jewish girls, whose apparent "crime" was walking atop the walls of the Old City, a custom conducted by many on Rosh Chodesh, the first day of the new Jewish month. At least one girl was injured when a rock thrown by Arabs struck her forehead. The incident occurred Sunday, but no mention of it has been made in the Israeli media, until now.
Speaking to Arutz Sheva, Tamar, the injured girl, said that the group had been doing nothing but walking through the Old City, on their way to the stairs that they would climb to get to the top of the walls surrounding the city. "All of the sudden I felt the rock hit my head," she said.
At first, Tamar said she felt okay, but friends immediately called for doctors, after seeing that she was bleeding profusely. Magen David Adom rescue workers were summoned to the scene, and she was given first aid. Afterwards, Tamar went to the Old City police station in order to file a complaint. However, she said, she was kept waiting for hours, and decided to come back and file the complaint on Monday, fearing she would have to walk through the Old City late at night in order to get home.
Tamar said that she had been informed that two Arabs were arrested for the attack, but police denied this when she showed up again Monday morning. The Old City is blanketed in security cameras which, according to sources, covers nearly every square meter of the site. A review of the footage is likely to reveal important clues as to the identities of the group's attackers, Tamar said.
Tamar is a frequent visitor to the Old City, and said that while she had always been aware in the back of her mind that such an attack was possible, "it's different when it actually happens. You feel as if people don't care." She especially felt that way, she said, when she sat in the police station waiting to give her statement, with heavy bandages on to stem the bleeding, being completely ignored by police. "It's discouraging," she said, adding that she expected that things would look somewhat different if it had been an Arab who came to file a complaint against a Jew.